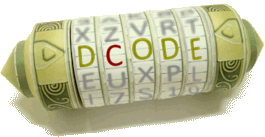 Search for a tool
Symbols Cipher List
Tools and codes and ciphers list including symbols (glyphes) with direct links to pages to decrypt/encrypt with them.
Symbols Cipher List - dCode
Tag(s) : Symbol Substitution
Share
dCode and more
dCode is free and its tools are a valuable help in games, maths, geocaching, puzzles and problems to solve every day!
A suggestion ? a feedback ? a bug ? an idea ? Write to dCode!
Symbols Cipher List
List of Cipher using Symbols
Lots of codes and ciphers use a substitution of letters (or digits or other characters) by symbols (small glyphs/drawings). Here is a list of tools with an overview of the symbols used:
Wingdings Font










Braille Alphabet










Standard Galactic Alphabet










Mayan Numerals








Enochian Alphabet









Babylonian Numerals









Elder Futhark ᚠᚢᚦᚨᚱᚲ








Pigpen Cipher










Music Staff Notation
Symbol Font








Egyptian Numerals







Cistercian Monk Numerals










7-Segment Display










Simlish Language









Aurebesh Alphabet










Webdings Font










Draconic Language
Alien Language ⏃⌰⟟⟒⋏










Unown Pokemon Alphabet










Templars Cipher










Dancing Men Cipher









Flag Semaphore










Music Sheet Cipher
Zodiac Killer Cipher









Zodiac Sign









Hylian Language (Breath of the Wild)










Gravity Falls Bill Cipher










Sheikah Language










Futurama Alien Alphabet










Navy Signals Code










Theban Alphabet










Chinese Code








Tom Tom Code ///\\/
Mary Stuart Code








Tally Marks









Gold Bug Cipher 3‡0†2?3
Lingua Ignota









Acéré Cipher









Rosicrucian Cipher










Mirror Digits









Atlantean Language









Ideograms Cipher (Lines, Circles, Dots)
Ogham Alphabet










Hylian Language (Twilight Princess)








Gravity Falls The Author










Betamaze Cipher










Hexahue








Ancients Alphabet from Stargate









Klingon Language







Gerudo Language







Goron Language










Tic-Tac-Toe Cipher










Inuktitut Language









Dotsies Font








Iokharic Language










Hylian Language (Skyward Sword)










French Sign Language








Dorabella Cipher










Gnommish Language










Birds on a Wire Cipher









Voynich Cipher








Semaphore Trousers Cipher








Daggers' Alphabet










Astronomical Symbol










Hylian Language (A Link Between Worlds)










Arthur and the Invisibles Alphabet










ITC Zapf Dingbats










American Sign Language









Clock Cipher








Hymnos Alphabet










Vulcan Language (Star Trek)










Knots Notation










Wingdings 2 Font










Wingdings 3 Font










Lunar Alphabet (L. Katz)










Daedric Language










Hylian Language (The Wind Waker)










Answers to Questions (FAQ)
How to recognize a symbol cipher?
There is currently no system capable of recognizing the language used according to the symbols of a cipher. The best method is to go through the examples of codes with symbols until you recognize visually the one actually sought.
dCode therefore provides a list of all the ciphers using symbols with an overview of the glyphs for each of them.
Sometimes the symbols are Unicode characters and can directly be displayed without using images.
Example: Braille ⠃⠗⠁⠊⠇⠇⠑
How to decrypt a symbol cipher?
After the first step, which is to recognize what code it is, use the dedicated page for this encryption on dCode, the tool's page will contain all the necessary explanations.
What to do if the code is not in the list?
Contact dCode and request a new tool.
Source code
dCode retains ownership of the online 'Symbols Cipher List' tool source code. Except explicit open source licence (indicated CC / Creative Commons / free), any 'Symbols Cipher List' algorithm, applet or snippet (converter, solver, encryption / decryption, encoding / decoding, ciphering / deciphering, translator), or any 'Symbols Cipher List' function (calculate, convert, solve, decrypt / encrypt, decipher / cipher, decode / encode, translate) written in any informatic language (Python, Java, PHP, C#, Javascript, Matlab, etc.) and no data download, script, copy-paste, or API access for 'Symbols Cipher List' will be for free, same for offline use on PC, tablet, iPhone or Android ! dCode is free and online.
Need Help ?
Please, check our dCode Discord community for help requests!
NB: for encrypted messages, test our automatic cipher identifier!
Questions / Comments
Summary
Similar pages
Support
Forum/Help

Keywords
symbol,draw,glyph,list
Links
Source : https://www.dcode.fr/symbols-ciphers
© 2021 dCode — The ultimate 'toolkit' to solve every games / riddles / geocaching / CTF.