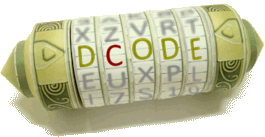 Search for a tool
Alpha Angle System Branding
Tool for decoding the Alpha Angle Branding System generally applied on mustang horses and allowing their numerical identification.
Alpha Angle System Branding - dCode
Tag(s) : Notation System, Symbol Substitution
Share
dCode and more
dCode is free and its tools are a valuable help in games, maths, geocaching, puzzles and problems to solve every day!
A suggestion ? a feedback ? a bug ? an idea ? Write to dCode!
Alpha Angle System Branding
Alpha Angle Branding Decoder
Alpha Angle Branding Encoder
Answers to Questions (FAQ)
What is Alpha Angle branding system? (Definition)
The International Alpha Angle System is a freeze marking/branding system for livestock and especially horses, in particular mustangs (wild horse from the American continent).
How to encrypt using Alpha Angle system?
How to decrypt Alpha Angle code?
The code should be read according to the correspondence table above.
Depending on the country or state of origin, the code may have partial meaning such as a year of birth.
How to recognize a Alpha Angle branding? (Identification)
The symbols used are right angles (in the 4 elementary directions, up, down, left, right and the 4 diagonals northeast, northwest, southeast, southwest) or a double vertical or horizontal bar (like an equal sign).
All references to cattle, horses, mustangs, cowboys, branding are clues.
Some characters look like the pig-pen cipher.
Source code
dCode retains ownership of the "Alpha Angle System Branding" source code. Except explicit open source licence (indicated Creative Commons / free), the "Alpha Angle System Branding" algorithm, the applet or snippet (converter, solver, encryption / decryption, encoding / decoding, ciphering / deciphering, breaker, translator), or the "Alpha Angle System Branding" functions (calculate, convert, solve, decrypt / encrypt, decipher / cipher, decode / encode, translate) written in any informatic language (Python, Java, PHP, C#, Javascript, Matlab, etc.) and all data download, script, or API access for "Alpha Angle System Branding" are not public, same for offline use on PC, mobile, tablet, iPhone or Android app!
Reminder : dCode is free to use.
Cite dCode
The copy-paste of the page "Alpha Angle System Branding" or any of its results, is allowed (even for commercial purposes) as long as you cite dCode!
Exporting results as a .csv or .txt file is free by clicking on the export icon
Cite as source (bibliography):
Alpha Angle System Branding on dCode.fr [online website], retrieved on 2023-09-27, https://www.dcode.fr/alpha-angle-branding
https://www.dcode.fr/alpha-angle-branding
© 2023 dCode — The ultimate 'toolkit' to solve every games / riddles / geocaching / CTF.
▲