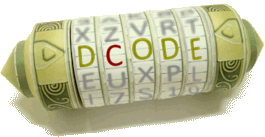 Search for a tool
Lunar Alphabet (L. Katz)
Tool to write/decode with the phases of the moons, in the style of the artist Leandro Katz and his lunar alphabet.
Lunar Alphabet (L. Katz) - dCode
Tag(s) : Symbol Substitution
Share
dCode and more
dCode is free and its tools are a valuable help in games, maths, geocaching, puzzles and problems to solve every day!
A suggestion ? a feedback ? a bug ? an idea ? Write to dCode!
Lunar Alphabet (L. Katz)
Lunar Alphabet Translator
Lunar Alphabet Encoder/Writer
Answers to Questions (FAQ)
What is the Lunar Alphabet?
The lunar alphabet was created by artist and poet Leandro Katz in 1978. Exhibited in several museums around the world, he used this alphabet to converse with director Jesse Lerner.
Leandro Katz created 2 almost identical versions of the alphabet, the second, in 1980, having higher resolution photos. He also proposed a typewriter, replacing the alphabetical keys with pictures of the phases of the moon.
How to encrypt using Lunar Alphabet cipher?
The lunar alphabet is an alphabetical substitution by symbols of the phases of the moon. Leandro Katz being Argentinian, he uses the Spanish alphabet of 27 characters (addition of Ñ).
A
B
C
D
E
F
G
H
I
J
K
L
M
N
~
O
P
Q
R
S
T
U
V
W
X
Y
Z
dCode.fr
For encoding reasons, the letter Ñ cannot be encoded on dCode, it is automatically transformed into N.
How to decrypt Lunar Alphabet cipher?
How to recognize a Lunar Alphabet ciphertext?
The message is made up of images representing the moon, from the smallest crescent, to the full moon, passing through each of the quarters, both in the ascending and descending moon.
All other references to the Earth's natural satellite are clues.
Source code
dCode retains ownership of the "Lunar Alphabet (L. Katz)" source code. Except explicit open source licence (indicated Creative Commons / free), the "Lunar Alphabet (L. Katz)" algorithm, the applet or snippet (converter, solver, encryption / decryption, encoding / decoding, ciphering / deciphering, translator), or the "Lunar Alphabet (L. Katz)" functions (calculate, convert, solve, decrypt / encrypt, decipher / cipher, decode / encode, translate) written in any informatic language (Python, Java, PHP, C#, Javascript, Matlab, etc.) and all data download, script, or API access for "Lunar Alphabet (L. Katz)" are not public, same for offline use on PC, tablet, iPhone or Android !
The copy-paste of the page "Lunar Alphabet (L. Katz)" or any of its results, is allowed as long as you cite the online source https://www.dcode.fr/lunar-alphabet-leandro-katz
Reminder : dCode is free to use.
Summary
Similar pages
Support
Forum/Help

Keywords
moon,lunar,phase,alphabet,leandro,katz,quarter,croissant
Links
Source : https://www.dcode.fr/lunar-alphabet-leandro-katz
© 2022 dCode — The ultimate 'toolkit' to solve every games / riddles / geocaching / CTF.