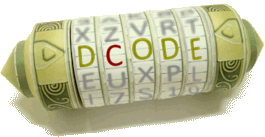 Search for a tool
Gnommish Language
Tool to translate the language of gnomes in Artemis Fowl. The Gnommish language is an alphabet based on symbols invented by Eoin Colfer.
Gnommish Language - dCode
Tag(s) : Symbol Substitution
Share
dCode and more
dCode is free and its tools are a valuable help in games, maths, geocaching, puzzles and problems to solve every day!
A suggestion ? a feedback ? a bug ? an idea ? Write to dCode!
Gnommish Language
Gnommish Decoder
Gnommish Encoder
Answers to Questions (FAQ)
How to write/translate in gnomic language?
How to translate from gnommish language?
How to recognize a gnommish ciphertext?
The characters of the alphabet are symbols seeming to recall hieroglyphs, they consist of drawings of everyday objects or animals or plants such as a leaf, a butterfly, a snail, a crab, a key or an eye.
In Artemis Fowl and the Eternity Code it is stated that, in the past, the Bible was written in a spiral, but more recently the writing has come by lines like humans.
The word D'arvit is an interjection similar to a swear/curse/bad word.
What is the difference between Gnommish and Gnomish?
Gnomish (with 1 m) is the English adjective to qualify things about gnomes. Gnommish (with 2 m) is the name of the language above used in Artemis Fall and invented by Eoin Colfer.
Source code
dCode retains ownership of the "Gnommish Language" source code. Except explicit open source licence (indicated Creative Commons / free), the "Gnommish Language" algorithm, the applet or snippet (converter, solver, encryption / decryption, encoding / decoding, ciphering / deciphering, breaker, translator), or the "Gnommish Language" functions (calculate, convert, solve, decrypt / encrypt, decipher / cipher, decode / encode, translate) written in any informatic language (Python, Java, PHP, C#, Javascript, Matlab, etc.) and all data download, script, or API access for "Gnommish Language" are not public, same for offline use on PC, mobile, tablet, iPhone or Android app!
Reminder : dCode is free to use.
Cite dCode
The copy-paste of the page "Gnommish Language" or any of its results, is allowed (even for commercial purposes) as long as you cite dCode!
Exporting results as a .csv or .txt file is free by clicking on the export icon
Cite as source (bibliography):
Gnommish Language on dCode.fr [online website], retrieved on 2023-09-30, https://www.dcode.fr/gnommish-alphabet
Summary
Similar pages
Support
Forum/Help

Keywords
gnommish,gnomish,gnome,alphabet,artemis,fowl,eoin,colfer,hyeroglyph
Links
https://www.dcode.fr/gnommish-alphabet
© 2023 dCode — The ultimate 'toolkit' to solve every games / riddles / geocaching / CTF.
▲