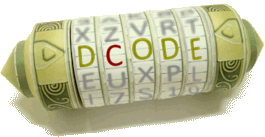 Search for a tool
Astronomical Symbol
Tool to discover and decode the astronomical symbols of the planets (and other stars) of the solar system (the 8 planets, the sun, the moons, the dwarf planets, etc.)
Astronomical Symbol - dCode
Tag(s) : Raw Data, Symbol Substitution
Share
dCode and more
dCode is free and its tools are a valuable help in games, maths, geocaching, puzzles and problems to solve every day!
A suggestion ? a feedback ? a bug ? an idea ? Write to dCode!
Astronomical Symbol
Astronomical Symbols of Solar System Objects
Answers to Questions (FAQ)
How to recognize astronomical symbols?
Each item of the solar system has been assigned, over astronomical discoveries, a name and a symbol (drawing), such as the sun, the moon, the 8 planets of the solar system, but also the dwarf planets.
Apart from the sun and the moon, the symbols are rather unrepresentative and sometimes there are several symbols (depending on the source) for the same star.
For others, use the form at the top of the page.
Do not confuse astronomical symbols and astrological signs.
What is the list of minor/dwarf planets in the solar system?
Many stars are listed, the best known are: Pluto, Ceres, Pallas, Juno, Vesta, Astraea, Hebe, Iris, Flora, Metis, Hygie, Parthenope, Victoria, Egeria, Irene, Eunomia, Psyche, Thetis, Melpomene, Fortuna, Proserpine, Bellona, Amphitrite, Leucotheae, Fides, etc.
Source code
dCode retains ownership of the "Astronomical Symbol" source code. Except explicit open source licence (indicated Creative Commons / free), the "Astronomical Symbol" algorithm, the applet or snippet (converter, solver, encryption / decryption, encoding / decoding, ciphering / deciphering, translator), or the "Astronomical Symbol" functions (calculate, convert, solve, decrypt / encrypt, decipher / cipher, decode / encode, translate) written in any informatic language (Python, Java, PHP, C#, Javascript, Matlab, etc.) and all data download, script, or API access for "Astronomical Symbol" are not public, same for offline use on PC, tablet, iPhone or Android !
The copy-paste of the page "Astronomical Symbol" or any of its results, is allowed as long as you cite the online source https://www.dcode.fr/astronomical-symbols
Reminder : dCode is free to use.
Summary
Similar pages
Support
Forum/Help

Keywords
planet,symbol,astronomical,representation,draw,sun,moon,dwarf
Links
Source : https://www.dcode.fr/astronomical-symbols
© 2022 dCode — The ultimate 'toolkit' to solve every games / riddles / geocaching / CTF.
▲