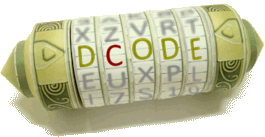 Search for a tool
Gerudo Language
Tool to translate the Gerudo language from the Zelda video game universe (from Ocarina of Time then Twilight Princess and in Breath of the Wild)
Gerudo Language - dCode
Tag(s) : Symbol Substitution
Share
dCode and more
dCode is free and its tools are a valuable help in games, maths, geocaching, puzzles and problems to solve every day!
A suggestion ? a feedback ? a bug ? an idea ? Write to dCode!
Gerudo Language
Gerudo Decoder
Gerudo Encoder
Tool to translate the Gerudo language from the Zelda video game universe (from Ocarina of Time then Twilight Princess and in Breath of the Wild)
Answers to Questions
How to write/encrypt using Gerudo language?
The Gerudo language was invented for the Zelda series, it is a substitution of the 26 letters of the Latin alphabet by 26 new symbols of the Gerudo alphabet.
Example: ZELDA is translated




In Zelda games, messages in Gerudo are usually transcribed from English messages
How to translate/decrypt Gerudo messages?
The Gerudos symbols are replacements for the 26 Latin letters. The translation can be done via a correspondence table.
Example:






is translated GERUDO.
How to recognize a Gerudo ciphertext?
The language of Gerudo is used by women warriors of the same name in the video game Zelda. Their people live near a desert and are ruled by a man Ganon/Ganondorf. Any reference to these elements is a clue.
The symbols are quite vertical, very rounded with long curves resembling commas/lines drawn with a brush.
Zelda's universe has many other languages like Sheikah, Goron or Hylian.
Source code
dCode retains ownership of the online 'Gerudo Language' tool source code. Except explicit open source licence (indicated CC / Creative Commons / free), any algorithm, applet or snippet (converter, solver, encryption / decryption, encoding / decoding, ciphering / deciphering, translator), or any function (convert, solve, decrypt / encrypt, decipher / cipher, decode / encode, translate) written in any informatic language (PHP, Java, C#, Python, Javascript, Matlab, etc.) no data, script or API access will be for free, same for Gerudo Language download for offline use on PC, tablet, iPhone or Android !
Need Help ?
Please, check our community Discord for help requests!
Questions / Comments
Lire en Français
Summary
Similar tools
Support
Forum/Help

Keywords
gerudo,language,alphabet,zelda,women,ganon,ganondorf
Links
Source : https://www.dcode.fr/gerudo-language
© 2021 dCode — The ultimate 'toolkit' to solve every games / riddles / geocaching / CTF.