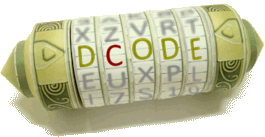 Search for a tool
Dada Urka Cipher
Tool to decode/encode with the secret code of the Dada Urka, a cipher from the Junior Woodchucks Guidebook (Huey, Dewey, and Louie) and Donald Duck adventures.
Dada Urka Cipher - dCode
Tag(s) : Symbol Substitution
Share
dCode and more
dCode is free and its tools are a valuable help in games, maths, geocaching, puzzles and problems to solve every day!
A suggestion ? a feedback ? a bug ? an idea ? Write to dCode!
Dada Urka Cipher
Dada Urka Decoder
Dada Urka Encoder
Answers to Questions (FAQ)
What is the secret code of Dada Urka? (Definition)
How to encrypt using Dada Urka cipher?
The Dada Ourka code is a substitution of the letters of the alphabet by a symbol according to the illustrations: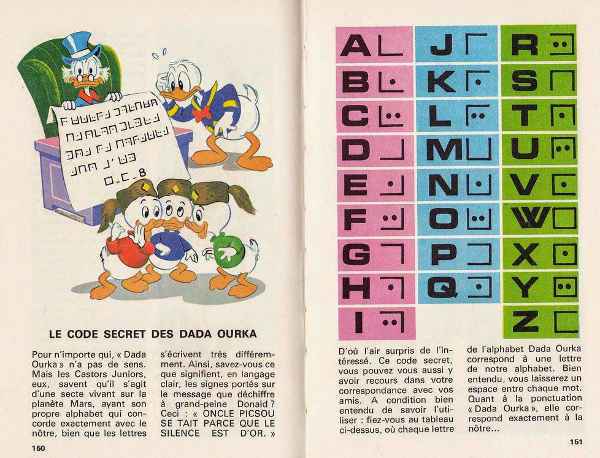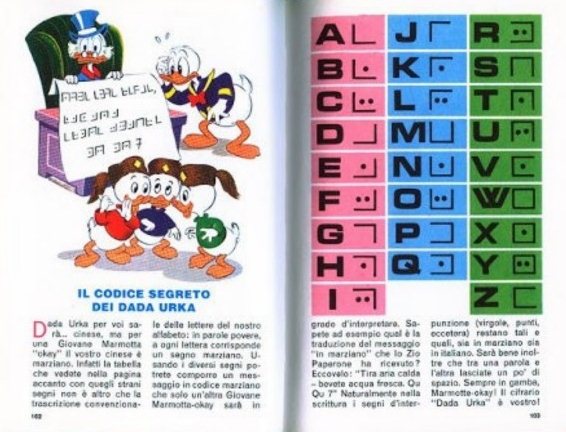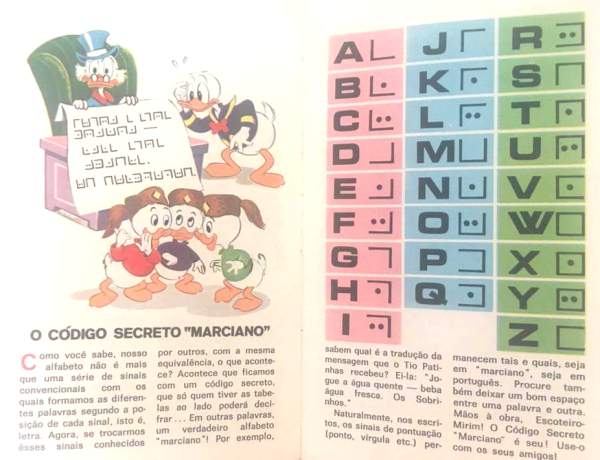 The greek edition has a distinct alphabet for greek characters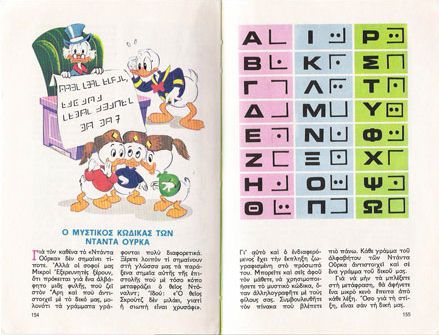 How to decrypt Dada Urka cipher?
How to recognize a Dada Urka ciphertext? (Identification)
The Dada Ourka symbols/glyphs are similar to those of the Pig-Pen code: right corners/angles accompanied by zero, one or two dots. The presence of double dots makes it possible to differentiate it from the Freemasons cipher or the rosicrucian cipher.
All references to Disney's Donald duck, uncle Scrooge, his nephews: Huey, Dewey and Louie (or the Junior Woodchucks) are clues.
Any mention of a Martian sect (from the planet Mars) is also a clue.
What are the variants of the Dada Urka cipher?
A Greek version has a different translation of the symbols.
dCode is interested in knowing other international versions if they exist.
When was Dada Urka code invented?
The Junior Woodchucks Guidebook was published near 1970 in several languages.
Source code
dCode retains ownership of the "Dada Urka Cipher" source code. Except explicit open source licence (indicated Creative Commons / free), the "Dada Urka Cipher" algorithm, the applet or snippet (converter, solver, encryption / decryption, encoding / decoding, ciphering / deciphering, breaker, translator), or the "Dada Urka Cipher" functions (calculate, convert, solve, decrypt / encrypt, decipher / cipher, decode / encode, translate) written in any informatic language (Python, Java, PHP, C#, Javascript, Matlab, etc.) and all data download, script, or API access for "Dada Urka Cipher" are not public, same for offline use on PC, mobile, tablet, iPhone or Android app!
Reminder : dCode is free to use.
Cite dCode
The copy-paste of the page "Dada Urka Cipher" or any of its results, is allowed (even for commercial purposes) as long as you cite dCode!
Exporting results as a .csv or .txt file is free by clicking on the export icon
Cite as source (bibliography):
Dada Urka Cipher on dCode.fr [online website], retrieved on 2023-12-05, https://www.dcode.fr/dada-urka-cipher
https://www.dcode.fr/dada-urka-cipher
© 2023 dCode — The ultimate 'toolkit' to solve every games / riddles / geocaching / CTF.
▲