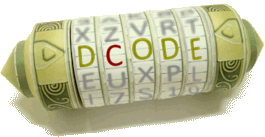 Search for a tool
Draconic Language
Tool to decrypt/write in the dragon language. The draconic language is the language of the dragons, it exists many variants, one of these has been popularized in the Skyrim video game.
Draconic Language - dCode
Tag(s) : Symbol Substitution
Share
dCode and more
dCode is free and its tools are a valuable help in games, maths, geocaching, puzzles and problems to solve every day!
A suggestion ? a feedback ? a bug ? an idea ? Write to dCode!
Draconic Language
Draconic Translator
Text to Draconic Writing
Answers to Questions (FAQ)
How to encrypt using Draconic language cipher?
The language of the dragons uses an alphabet of 36 symbols. These characters allow to code the letters of the Latin alphabet (A-Z) but also some combinations such as AA, AH, EI, EY, II, IR, OO.
Some symbols like
, normally the equivalent of C are not used in any word known in draconic language.
Encryption uses a substitution of letters and / or letter pairs by draconic symbols.
How to decrypt a draconic language cipher?
How to recognize Draconic ciphertext?
The ciphered message is constituted of symbols made of lines and dots, potentially representing claws made by dragons.
The draconic appears in the fantastic universe such as D&D: dungeons and dragons, or in the game The Elder Scrolls V: Skyrim (from Bethesda).
All references to flames or fires are clues.
The iokharic language is similar.
Is draconic a real language?
No, dragons do not exist in reality, nor their language. But it's all a matter of imagination, in D&D dragons exist, so a dragon language (or iokaric) has to exist.
Source code
dCode retains ownership of the online "Draconic Language" source code. Except explicit open source licence (indicated CC / Creative Commons / free), the "Draconic Language" algorithm, the applet or snippet (converter, solver, encryption / decryption, encoding / decoding, ciphering / deciphering, translator), or the "Draconic Language" functions (calculate, convert, solve, decrypt / encrypt, decipher / cipher, decode / encode, translate) written in any informatic language (Python, Java, PHP, C#, Javascript, Matlab, etc.) and all data download, script, copy-paste, or API access for "Draconic Language" are not public, same for offline use on PC, tablet, iPhone or Android ! Remainder : dCode is free to use.
Need Help ?
Please, check our dCode Discord community for help requests!
NB: for encrypted messages, test our automatic cipher identifier!
Questions / Comments
Summary
Similar pages
Support
Forum/Help

Keywords
draconic,dragon,skyrim,elder,scrolls,bethesda,lang,language,fire,claw,dungeon,alphabet
Links
Source : https://www.dcode.fr/draconic-dragon-language
© 2021 dCode — The ultimate 'toolkit' to solve every games / riddles / geocaching / CTF.