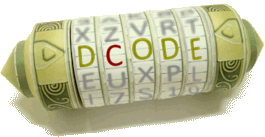 Search for a tool
Wakanda Alphabet
Tool to translate from/to Wakanda, an imaginary language/alphabet used in Marvel's Black Panther movie universe.
Wakanda Alphabet - dCode
Tag(s) : Symbol Substitution
Share
dCode and more
dCode is free and its tools are a valuable help in games, maths, geocaching, puzzles and problems to solve every day!
A suggestion ? a feedback ? a bug ? an idea ? Write to dCode!
Wakanda Alphabet
Wakanda Decoder
Wakanda Encoder
Answers to Questions (FAQ)
What is Wakanda alphabet? (Definition)
Wakanda is a fictional country in the Marvel universe located in Africa and known for its superhero: Black Panther. The local language used is Wakandan, which has its own alphabet.
How to encrypt using Wakandan alphabet?
Wakandan uses a simple substitution of the letters of the alphabet (upper case, lower case differentiated) and numbers by a symbol of the Wakanda alphabet.
A
B
C
D
E
F
G
H
I
J
K
L
M
N
O
P
Q
R
S
T
U
V
W
X
Y
Z
a
b
c
d
e
f
g
h
i
j
k
l
m
n
o
p
q
r
s
t
u
v
w
x
y
z
0
1
2
3
4
5
6
7
8
9
dCode.fr
How to decrypt Wakandan alphabet?
How to recognize the Wakandan alphabet? (Identification)
The Wakandan alphabet is freely inspired by the Nsibidi symbols (set of symbols used in Nigeria).
All references to Black Panther and the associated Marvel Universe are clues.
When Wakandan was invented?
The Wakandan alphabet was developed by Hannah Beachler for the 2018 movie Black Panther.
The symbols used on this page come from the Wakanda Forever creation by Adam Shady.
Source code
dCode retains ownership of the "Wakanda Alphabet" source code. Except explicit open source licence (indicated Creative Commons / free), the "Wakanda Alphabet" algorithm, the applet or snippet (converter, solver, encryption / decryption, encoding / decoding, ciphering / deciphering, breaker, translator), or the "Wakanda Alphabet" functions (calculate, convert, solve, decrypt / encrypt, decipher / cipher, decode / encode, translate) written in any informatic language (Python, Java, PHP, C#, Javascript, Matlab, etc.) and all data download, script, or API access for "Wakanda Alphabet" are not public, same for offline use on PC, mobile, tablet, iPhone or Android app!
Reminder : dCode is free to use.
Cite dCode
The copy-paste of the page "Wakanda Alphabet" or any of its results, is allowed (even for commercial purposes) as long as you cite dCode!
Exporting results as a .csv or .txt file is free by clicking on the export icon
Cite as source (bibliography):
Wakanda Alphabet on dCode.fr [online website], retrieved on 2023-09-30, https://www.dcode.fr/wakanda-alphabet
Summary
Similar pages
Support
Forum/Help

Keywords
wakanda,black,panther,hannah,beachler,marvel
Links
https://www.dcode.fr/wakanda-alphabet
© 2023 dCode — The ultimate 'toolkit' to solve every games / riddles / geocaching / CTF.
▲