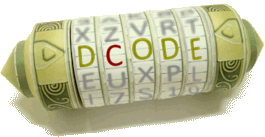 Search for a tool
Halo Covenant Language
Tool to translate the Covenant language, an alphabet used in the Halo video game series, notably by the Sangheili.
Halo Covenant Language - dCode
Tag(s) : Symbol Substitution
Share
dCode and more
dCode is free and its tools are a valuable help in games, maths, geocaching, puzzles and problems to solve every day!
A suggestion ? a feedback ? a bug ? an idea ? Write to dCode!
Halo Covenant Language
Covenant Language Decoder
Covenant Writing
Answers to Questions (FAQ)
What is Covenant language? (Definition)
Covenant is a language used in the Halo video game by characters from the Covenant Empire (Unggoy, Kig-Yar, Sangheili, etc.).
How to write using Covenant alphabet?
How to decrypt Covenant cipher?
Replace each Covenant symbol with the corresponding letter in the alphabet to form words.
Words can sometimes be terms in the Covenant language of a species and therefore they will be transcribed in the English alphabet (and not translated, there is no Covenant dictionary).
How to recognize a Covenant ciphertext? (Identification)
Covenant symbols are made up of triangles, sometimes put together like a tangram or a puzzle.
All references to the Halo video game (Bungie & Microsoft) such as the spartan John-117 (Master Chief) are clues.
Although sharing the same alphabet, each species has a different lexicon. Two identical words will have two different meanings depending on the species that uses them.
Source code
dCode retains ownership of the "Halo Covenant Language" source code. Except explicit open source licence (indicated Creative Commons / free), the "Halo Covenant Language" algorithm, the applet or snippet (converter, solver, encryption / decryption, encoding / decoding, ciphering / deciphering, translator), or the "Halo Covenant Language" functions (calculate, convert, solve, decrypt / encrypt, decipher / cipher, decode / encode, translate) written in any informatic language (Python, Java, PHP, C#, Javascript, Matlab, etc.) and all data download, script, or API access for "Halo Covenant Language" are not public, same for offline use on PC, mobile, tablet, iPhone or Android app!
Reminder : dCode is free to use.
Cite dCode
The copy-paste of the page "Halo Covenant Language" or any of its results, is allowed as long as you cite dCode!
Cite as source (bibliography):
Halo Covenant Language on dCode.fr [online website], retrieved on 2022-11-29, https://www.dcode.fr/covenant-halo-language
Summary
Similar pages
Support
Forum/Help

Keywords
covenant,language,halo,sangheili,unggoy,tangram,triangle,spartan,john,117,master,chief
Links
https://www.dcode.fr/covenant-halo-language
© 2022 dCode — The ultimate 'toolkit' to solve every games / riddles / geocaching / CTF.
▲