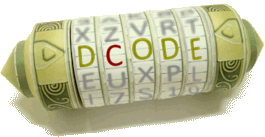 Search for a tool
Unown Pokemon Alphabet
Tool for decrypting / encrypting with Unown symbols. The Pokemon Unown (Pokedex #201) is a Psy Pokemon of the 2nd generation which can take different forms that imitate letters of the Latin alphabet.
Unown Pokemon Alphabet - dCode
Tag(s) : Symbol Substitution
Share
dCode and more
dCode is free and its tools are a valuable help in games, maths, geocaching, puzzles and problems to solve every day!
A suggestion ? a feedback ? a bug ? an idea ? Write to dCode!
Unown Pokemon Alphabet
Unown Alphabet Decoder
Unown Alphabet Encoder
Answers to Questions (FAQ)
What is the Unown Pokemon? (Definition)
The Pokemon Unown is a Pokemon (Psy type) of the 2nd generation, with the Pokedex number 201.
Unown has the particularity of being flat and of having several possible shapes/forms.
There are 28 shapes, 26 that are similar to Latin alphabet letters and 2 others, added with the next generations: the ? (Question mark) and the ! (exclamation mark).
The pokemon #201 Unown is called Zarbi (slang for Bizarre) in French, Unown is certainly a modified spelling of unknown.
How to encrypt using Unown Pokemon?
How to decrypt using Unown Pokemon?
How to recognize an Unown alphabet ciphertext?
The symbols of the message are all composed of an eye associated with one or more straight lines or circle's arc.
Any reference to pokémons, their evolution, or to Pikachu or Ash characters are clues.
Source code
dCode retains ownership of the "Unown Pokemon Alphabet" source code. Except explicit open source licence (indicated Creative Commons / free), the "Unown Pokemon Alphabet" algorithm, the applet or snippet (converter, solver, encryption / decryption, encoding / decoding, ciphering / deciphering, translator), or the "Unown Pokemon Alphabet" functions (calculate, convert, solve, decrypt / encrypt, decipher / cipher, decode / encode, translate) written in any informatic language (Python, Java, PHP, C#, Javascript, Matlab, etc.) and all data download, script, or API access for "Unown Pokemon Alphabet" are not public, same for offline use on PC, mobile, tablet, iPhone or Android app!
Reminder : dCode is free to use.
Cite dCode
The copy-paste of the page "Unown Pokemon Alphabet" or any of its results, is allowed as long as you cite dCode!
Cite as source (bibliography):
Unown Pokemon Alphabet on dCode.fr [online website], retrieved on 2022-12-09, https://www.dcode.fr/pokemon-unown-alphabet
Summary
Similar pages
Support
Forum/Help

Keywords
unown,zarbi,pokemon,201,alphabet,code,psy,eye,flat,shape,bizarre,unknown,translator
Links
https://www.dcode.fr/pokemon-unown-alphabet
© 2022 dCode — The ultimate 'toolkit' to solve every games / riddles / geocaching / CTF.
▲