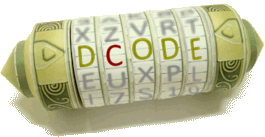 Search for a tool
Daggers' Alphabet
Tool for reading or writing with the alphabet of daggers, a mystical alphabet described by Aleister Crowley in his book: The Vision and the Voice
Daggers' Alphabet - dCode
Tag(s) : Symbol Substitution
Share
dCode and more
dCode is free and its tools are a valuable help in games, maths, geocaching, puzzles and problems to solve every day!
A suggestion ? a feedback ? a bug ? an idea ? Write to dCode!
Daggers' Alphabet
Daggers' Alphabet Decoder
Daggers' Alphabet Encoder
Answers to Questions (FAQ)
How to encrypt using Daggers' Alphabet cipher?
The alphabet of daggers is made up of 26 symbols, each having an equivalent with the classical Latin alphabet. Writing with the alphabet of daggers then consists of replacing any letter in the message with the corresponding symbol.
How to decrypt Daggers' Alphabet cipher?
How to recognize a Daggers' Alphabet ciphertext?
The message consists only of daggers, small swords resembling obeles.
The daggers are grouped by 1, 2, 3, 4, 5 or 7.
The daggers are represented either vertically, horizontally or diagonally.
Daggers generally do not cross except the letters P and R.
When Daggers' Alphabet have been invented ?
The alphabet is described in Aleister Crowley's book: The Vision and the Voice, published at the beginning of the 20th century and describing Enochian ethers from the 16th century.
Source code
dCode retains ownership of the "Daggers' Alphabet" source code. Except explicit open source licence (indicated Creative Commons / free), the "Daggers' Alphabet" algorithm, the applet or snippet (converter, solver, encryption / decryption, encoding / decoding, ciphering / deciphering, breaker, translator), or the "Daggers' Alphabet" functions (calculate, convert, solve, decrypt / encrypt, decipher / cipher, decode / encode, translate) written in any informatic language (Python, Java, PHP, C#, Javascript, Matlab, etc.) and all data download, script, or API access for "Daggers' Alphabet" are not public, same for offline use on PC, mobile, tablet, iPhone or Android app!
Reminder : dCode is free to use.
Cite dCode
The copy-paste of the page "Daggers' Alphabet" or any of its results, is allowed (even for commercial purposes) as long as you cite dCode!
Exporting results as a .csv or .txt file is free by clicking on the export icon
Cite as source (bibliography):
Daggers' Alphabet on dCode.fr [online website], retrieved on 2023-09-27, https://www.dcode.fr/daggers-alphabet
Summary
https://www.dcode.fr/daggers-alphabet
© 2023 dCode — The ultimate 'toolkit' to solve every games / riddles / geocaching / CTF.
▲