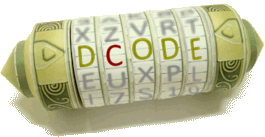 Search for a tool
Standard Galactic Alphabet
Tool to decipher / read the standard galactic alphabet (SGA), used in Commander Keen then in other universes like Quake 4 or Minecraft (enchantment alphabet).
Standard Galactic Alphabet - dCode
Tag(s) : Symbol Substitution
Share
dCode and more
dCode is free and its tools are a valuable help in games, maths, geocaching, puzzles and problems to solve every day!
A suggestion ? a feedback ? a bug ? an idea ? Write to dCode!
Standard Galactic Alphabet
Standard Galactic Alphabet Decoder
Standard Galactic Alphabet Encoder
Answers to Questions (FAQ)
What is the Standard Galactic Alphabet? (Definition)
The Standard Galactic alphabet is an invented alphabet, it is used in several videogame universes to start with Commander Keen, Quake 4 or Minecraft (where it usually renamed alphabet of enchantment, because it appears with the table of enchantment/enchanting table).
How to encrypt/write using Standard Galactic Alphabet?
How to decrypt/read Standard Galactic Alphabet?
How to recognize a Standard Galactic Alphabet ciphertext?
The alphabet is composed of symbols with runic inspirations, it is generally presented as a written language (it is mostly an alphabet).
All references to video games, specifically Commander Keen, Quake 4 or Minecraft and its enchantment table, are clues.
When the Standard Galactic Alphabet was invented?
The alphabet appears in Commander Keen, a video game released in 1990.
Source code
dCode retains ownership of the online "Standard Galactic Alphabet" source code. Except explicit open source licence (indicated CC / Creative Commons / free), the "Standard Galactic Alphabet" algorithm, the applet or snippet (converter, solver, encryption / decryption, encoding / decoding, ciphering / deciphering, translator), or the "Standard Galactic Alphabet" functions (calculate, convert, solve, decrypt / encrypt, decipher / cipher, decode / encode, translate) written in any informatic language (Python, Java, PHP, C#, Javascript, Matlab, etc.) and all data download, script, copy-paste, or API access for "Standard Galactic Alphabet" are not public, same for offline use on PC, tablet, iPhone or Android ! Remainder : dCode is free to use.
Need Help ?
Please, check our dCode Discord community for help requests!
NB: for encrypted messages, test our automatic cipher identifier!
Questions / Comments
Source : https://www.dcode.fr/standard-galactic-alphabet
© 2021 dCode — The ultimate 'toolkit' to solve every games / riddles / geocaching / CTF.