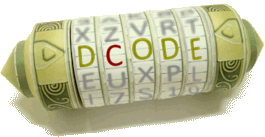 Search for a tool
Simlish Language
Tool to translate the language of the Sims: the Simlish, composed of symbols and signs similar to Greek and Latin alphabets, it is the language of the characters of the video game The Sims.
Simlish Language - dCode
Tag(s) : Symbol Substitution
Share
dCode and more
dCode is free and its tools are a valuable help in games, maths, geocaching, puzzles and problems to solve every day!
A suggestion ? a feedback ? a bug ? an idea ? Write to dCode!
Simlish Language
Simlish Decoder
Simlish Encoder
Answers to Questions (FAQ)
What is Simlish? (Definition)
The Simlish language is a language invented by Will Wright, from Maxis studio, for the game The Sims. This language was created to be untranslatable gibberish and to mean nothing in order to let it to players' imagination.
However, it contains many characters similar to the Latin alphabet, players tried to recognize which characters correspond to which letter of the alphabet, and tables of correspondences are available on the internet, dCode then transcribed them in this tool.
How to write in Simlish?
How to translate Simlish text?
In video games The Sims, text and speech of the characters do usually mean nothing, no need to try to translate them, the Simlish was created especially to allow players to imagine the conversations.
Using the conversion charts created by the fans, it is possible to write words and phrases.
How to recognize a Simlish ciphertext?
The Simlish is used in both The Sims or SimCity game series.
The symbols are relatively close to the characters used in Latin or Greek.
Source code
dCode retains ownership of the "Simlish Language" source code. Except explicit open source licence (indicated Creative Commons / free), the "Simlish Language" algorithm, the applet or snippet (converter, solver, encryption / decryption, encoding / decoding, ciphering / deciphering, breaker, translator), or the "Simlish Language" functions (calculate, convert, solve, decrypt / encrypt, decipher / cipher, decode / encode, translate) written in any informatic language (Python, Java, PHP, C#, Javascript, Matlab, etc.) and all data download, script, or API access for "Simlish Language" are not public, same for offline use on PC, mobile, tablet, iPhone or Android app!
Reminder : dCode is free to use.
Cite dCode
The copy-paste of the page "Simlish Language" or any of its results, is allowed (even for commercial purposes) as long as you cite dCode!
Exporting results as a .csv or .txt file is free by clicking on the export icon
Cite as source (bibliography):
Simlish Language on dCode.fr [online website], retrieved on 2023-09-27, https://www.dcode.fr/simlish-language
Summary
Similar pages
Support
Forum/Help

Keywords
simlish,sims,maxis,game,simcity
Links
https://www.dcode.fr/simlish-language
© 2023 dCode — The ultimate 'toolkit' to solve every games / riddles / geocaching / CTF.
▲