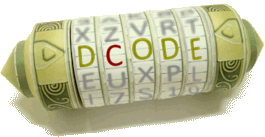 Search for a tool
Hylian Language (Twilight Princess)
Tool to decode the Hylian language used in Zelda games and especially in Twilight Princess. The symbols used appear in the game on the signs and maps and are in fact symbols substituting the letters of the Latin alphabet.
Hylian Language (Twilight Princess) - dCode
Tag(s) : Symbol Substitution
Share
dCode and more
dCode is free and its tools are a valuable help in games, maths, geocaching, puzzles and problems to solve every day!
A suggestion ? a feedback ? a bug ? an idea ? Write to dCode!
Hylian Language (Twilight Princess)
Hylian Decoder (Twilight Princess)
Hylian (Twilight Princess) Encoder
Answers to Questions (FAQ)
How to write in Hylian, as in Zelda Twilight Princess?
Hylian is a fictional language created for the Zelda game world and is used in Twilight Princess in the world of Hyrule.
Hylian writing is similar to a classical writing but with each letter replaced by an Hylian symbol.
Example:
Letter
Hylian Symbol
Letter
Hylian Symbol
Letter
Hylian Symbol
A
B
C
D
E
F
G
H
I
J
K
L
M
N
O
P
Q
R
S
T
U
V
W
X
Y
Z
dCode.fr
There is no difference between upper and lower case and there is no question of punctuation and to write numbers, it is better to write the numbers in letters beforehand.
The dCode's text generator allows to write most English words and names.
How to decrypt Hylian from Zelda Twilight Princess?
How to recognize an Hylian Twilight Princess ciphertext?
The message is composed of rounded symbols, some resembling the Latin characters.
Any reference to Link character, Zelda's game or universe is a clue.
With each new Zelda, the Hylian language has undergone variations
What are the variants of the Hylian Twilight Princess cipher?
In some versions for Wii console, the symbols appear in mirror writing compared to the GameCube version.
This version of the Hylian language appears in Twilight Princess but also a little bit in Skyward Sword (although the majority of the symbols in this other game use a dedicated Hylian Skyward Sword alphabet).
Source code
dCode retains ownership of the online "Hylian Language (Twilight Princess)" tool source code. Except explicit open source licence (indicated CC / Creative Commons / free), any "Hylian Language (Twilight Princess)" algorithm, applet or snippet (converter, solver, encryption / decryption, encoding / decoding, ciphering / deciphering, translator), or any "Hylian Language (Twilight Princess)" function (calculate, convert, solve, decrypt / encrypt, decipher / cipher, decode / encode, translate) written in any informatic language (Python, Java, PHP, C#, Javascript, Matlab, etc.) and no data download, script, copy-paste, or API access for "Hylian Language (Twilight Princess)" will be for free, same for offline use on PC, tablet, iPhone or Android ! dCode is free and online.
Need Help ?
Please, check our dCode Discord community for help requests!
NB: for encrypted messages, test our automatic cipher identifier!
Questions / Comments
Source : https://www.dcode.fr/hylian-language-twilight-princess
© 2021 dCode — The ultimate 'toolkit' to solve every games / riddles / geocaching / CTF.