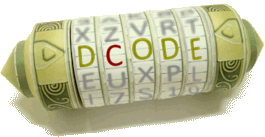 Search for a tool
Word Hunt (Game Pigeon) Solver
Tool / Solver to cheat in Word Hunt (Game Pigeon) and quickly find all the best words on the grid in order to beat your opponent.
Word Hunt (Game Pigeon) Solver - dCode
Tag(s) : Word Games, Mobile Games
Share
dCode and more
dCode is free and its tools are a valuable help in games, maths, geocaching, puzzles and problems to solve every day!
A suggestion ? a feedback ? a bug ? an idea ? Write to dCode!
Word Hunt (Game Pigeon) Solver
Word Hunt Solver
Answers to Questions (FAQ)
What is Word Hunt from Game Pigeon? (Definition)
The Word Hunt game is a word game, similar to Boggle, available on the Game Pigeon application, playable with two players via iMessage on iOS devices (iPhone, iPad). In Word Hunt, players must form as many words as possible by connecting adjacent letters in a grid, all within a limited time.
How to use the Word Hunt Solver?
Word Hunt Solver is a tool designed to help players find valid words when playing Word Hunt game on Game Pigeon.
Word Hunt (from Game Pigeon on iMessage) uses usually 4x4 grids, but the size is changeable.
— Enter the letters of the WordHunt game grid in the boxes, respecting the layout.
— Choose the dictionary/language used in the game.
— Click on the button to launch the search
All solution words that can be entered in the WordHunt grid will be displayed.
If there are black or empty boxes (not usable), leave the box empty to indicate them.
If there are wildcards (which can replace any letter), indicate it with the characters * or ?
How to Cheat at Word Hunt?
Use this solver or the other Boggle 4x4 solvers on dCode to increase your score in the game.
The use of the solver is a form of cheating, it is important to remember that cheating can affect the fair gaming experience and the pleasure of playing for all participants. Using a solver for Word Hunt should be done responsibly and respectfully towards opponents.
What is the difference between single player mode and multiplayer mode?
The single player mode in Word Hunt allows you to play against the clock to find as many words as possible in the letter grid, in this case the solver is ideal for improving.
The multiplayer mode allows you to challenge a friend via iMessage and play in competition.
What are the alternatives to Word Hunt on Game Pigeon?
Source code
dCode retains ownership of the "Word Hunt (Game Pigeon) Solver" source code. Except explicit open source licence (indicated Creative Commons / free), the "Word Hunt (Game Pigeon) Solver" algorithm, the applet or snippet (converter, solver, encryption / decryption, encoding / decoding, ciphering / deciphering, breaker, translator), or the "Word Hunt (Game Pigeon) Solver" functions (calculate, convert, solve, decrypt / encrypt, decipher / cipher, decode / encode, translate) written in any informatic language (Python, Java, PHP, C#, Javascript, Matlab, etc.) and all data download, script, or API access for "Word Hunt (Game Pigeon) Solver" are not public, same for offline use on PC, mobile, tablet, iPhone or Android app!
Reminder : dCode is free to use.
Cite dCode
The copy-paste of the page "Word Hunt (Game Pigeon) Solver" or any of its results, is allowed (even for commercial purposes) as long as you cite dCode!
Exporting results as a .csv or .txt file is free by clicking on the export icon
Cite as source (bibliography):
Word Hunt (Game Pigeon) Solver on dCode.fr [online website], retrieved on 2023-12-06, https://www.dcode.fr/word-hunt-game-pigeon-solver
https://www.dcode.fr/word-hunt-game-pigeon-solver
© 2023 dCode — The ultimate 'toolkit' to solve every games / riddles / geocaching / CTF.
▲