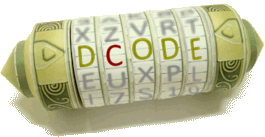 Search for a tool
Ruzzle Solver
Tool/Solver to cheat at Ruzzle, a clone of the game Boggle aiming to form words on a grid of letters, the longer and more the words are, the more points the player earns.
Ruzzle Solver - dCode
Tag(s) : Word Games, Mobile Games
Share
dCode and more
dCode is free and its tools are a valuable help in games, maths, geocaching, puzzles and problems to solve every day!
A suggestion ? a feedback ? a bug ? an idea ? Write to dCode!
Ruzzle Solver
Ruzzle Solver
Answers to Questions (FAQ)
What is Ruzzle? (Definition)
Ruzzle is a word game inspired by Boggle, using a grid of 4x4 = 16 letters in order to form words with adjacent cells (horizontally, vertically or diagonally).
Each word found earns points, the player with the highest score wins.
How to use the Ruzzle Solver?
Enter the letters in the cells of the 4x4 grid (same as Boggle), choose a sorting method (by default, the game searches for words that give the most points to get the best scores), select the dictionary to use and launch the word search by clicking the find button.
Double or Triple Letter or Word bonus cells are ignored for the calculation of the player's score.
How to cheat at Ruzzle?
This solver allows cheating at Ruzzle application (developed by MAG Interactive) locally or online. In the case of multiplayer games, cheating is not fair play. Use this application responsibly.
Source code
dCode retains ownership of the "Ruzzle Solver" source code. Except explicit open source licence (indicated Creative Commons / free), the "Ruzzle Solver" algorithm, the applet or snippet (converter, solver, encryption / decryption, encoding / decoding, ciphering / deciphering, translator), or the "Ruzzle Solver" functions (calculate, convert, solve, decrypt / encrypt, decipher / cipher, decode / encode, translate) written in any informatic language (Python, Java, PHP, C#, Javascript, Matlab, etc.) and all data download, script, or API access for "Ruzzle Solver" are not public, same for offline use on PC, mobile, tablet, iPhone or Android app!
Reminder : dCode is free to use.
Cite dCode
The copy-paste of the page "Ruzzle Solver" or any of its results, is allowed as long as you cite dCode!
Cite as source (bibliography):
Ruzzle Solver on dCode.fr [online website], retrieved on 2023-01-29, https://www.dcode.fr/ruzzle-solver
Summary
Similar pages
Support
Forum/Help

Keywords
ruzzle,boggle,cheat,word,letter,4x4
Links
https://www.dcode.fr/ruzzle-solver
© 2023 dCode — The ultimate 'toolkit' to solve every games / riddles / geocaching / CTF.
▲