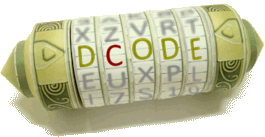 Search for a tool
Wordament Solver
Tool/Solver to find the best words at Wordament, a word game inspired by Boggle using a squared 4x4 letters grid but with some specific rules changing at each level with this solver.
Wordament Solver - dCode
Tag(s) : Word Games, Mobile Games
Share
dCode and more
dCode is free and its tools are a valuable help in games, maths, geocaching, puzzles and problems to solve every day!
A suggestion ? a feedback ? a bug ? an idea ? Write to dCode!
Wordament Solver
Wordament Solver
Answers to Questions (FAQ)
What is Wordament? (Definition)
Wordament is a multiplayer word game similar to Boggle, developed by Microsoft, available on mobiles and PC. In Wordament, players have a grid of letters and must form words by connecting adjacent letters. Words can be formed in all directions (horizontal, vertical, diagonal) and players have to find as many words as possible in a given amount of time.
How to use the Wordament Solver?
Enter the letters in the 4x4 cells, digrams are allowed (several letters), then select the game mode, this changes the order of the results.
The only difference with classic Boggle, is scoring based on game modes, so be sure to enter the game mode.
Example: In speed game mode, words are displayed according to their position in the grid allowing to write the words as quickly as possible.
Not all game modes are implemented yet.
How to cheat at Microsoft Wordament?
The Wordament solver can help you progress through the game by finding difficult words that earn the most points (great for bonus puzzles), improve your overall score, and discover missing words. However, using the solver can also reduce the challenge and satisfaction of finding words on your own, so use it sparingly.
The solver can be used to cheat and get all the words, but be careful not to do this online so as not to ruin the experience of other players. It's best to play fair.
Are there any tips for becoming better at Wordament?
Yes, to become better at Wordament, the player can follow a few tips:
— Try to form longer words to get a better score.
— Search for variants (plural, feminine, prefixes or suffixes) of words already found.
— Use less common letters or bonus boxes that increase the number of points.
— Use dCode's Wordament solver to improve and list all the words.
— Experiment with different starting letters to explore word possibilities.
Source code
dCode retains ownership of the "Wordament Solver" source code. Except explicit open source licence (indicated Creative Commons / free), the "Wordament Solver" algorithm, the applet or snippet (converter, solver, encryption / decryption, encoding / decoding, ciphering / deciphering, breaker, translator), or the "Wordament Solver" functions (calculate, convert, solve, decrypt / encrypt, decipher / cipher, decode / encode, translate) written in any informatic language (Python, Java, PHP, C#, Javascript, Matlab, etc.) and all data download, script, or API access for "Wordament Solver" are not public, same for offline use on PC, mobile, tablet, iPhone or Android app!
Reminder : dCode is free to use.
Cite dCode
The copy-paste of the page "Wordament Solver" or any of its results, is allowed (even for commercial purposes) as long as you cite dCode!
Exporting results as a .csv or .txt file is free by clicking on the export icon
Cite as source (bibliography):
Wordament Solver on dCode.fr [online website], retrieved on 2023-10-01, https://www.dcode.fr/wordament-solver
Summary
Similar pages
Support
Forum/Help

Keywords
wordament,boggle,cheat,word,4x4,game,solver
Links
https://www.dcode.fr/wordament-solver
© 2023 dCode — The ultimate 'toolkit' to solve every games / riddles / geocaching / CTF.
▲