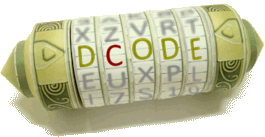 Search for a tool
Boggle/Word Streak Solver
Tool/Solver to cheat at Boggle with Friends / Word Streak with Friends. Word Streak with Friends is a fast word game inspired by Boggle whose goal is to find words by looking for a way of letters in a 4x4 grid.
Boggle/Word Streak Solver - dCode
Tag(s) : Word Games, Mobile Games
Share
dCode and more
dCode is free and its tools are a valuable help in games, maths, geocaching, puzzles and problems to solve every day!
A suggestion ? a feedback ? a bug ? an idea ? Write to dCode!
Boggle/Word Streak Solver
Boggle with Friends Solver
Answers to Questions (FAQ)
What is Boggle/Word Streak with Friends? (Definition)
Boggle with Friends (or formerly Word Streak With Friends) is a version of the Boggle game published by Zinga on mobile and Facebook.
How to use the Boggle/Word Streak Solver?
Enter the game letters in the cells of the 4x4 grid (exact values of cells are ignored, as well as cells with double or triple values).
It is then possible to get a 16 letter word word streak (for daily challenge riddles)
This solver can be used as a Word Streak Cheat for mobile or Facebook, Word Streak cheating is not Fair Play (the same apply for every Boggle Game).
How to be the fastest at Boggle/WSWF (Tips) ?
Our Word Streak/Boggle With Friends tips:
It is preferable to use 2 screens, one for the game, one for the Words Streak with Friends solver, then:
— open this dCode Word Streak with Friends cheat tool (this page)
— enter the 16 letters immediately in the first cell of the solver and others letters will be split in other cells automatically,
— sort word by fast typing mode,
— use freeze bonus to gain time
What is Word Streak with friends?
The game Word Streak with friends is now called Boggle with Friends.
Source code
dCode retains ownership of the online "Boggle/Word Streak Solver" tool source code. Except explicit open source licence (indicated CC / Creative Commons / free), any "Boggle/Word Streak Solver" algorithm, applet or snippet (converter, solver, encryption / decryption, encoding / decoding, ciphering / deciphering, translator), or any "Boggle/Word Streak Solver" function (calculate, convert, solve, decrypt / encrypt, decipher / cipher, decode / encode, translate) written in any informatic language (Python, Java, PHP, C#, Javascript, Matlab, etc.) and no data download, script, copy-paste, or API access for "Boggle/Word Streak Solver" will be for free, same for offline use on PC, tablet, iPhone or Android ! dCode is free and online.
Need Help ?
Please, check our dCode Discord community for help requests!
NB: for encrypted messages, test our automatic cipher identifier!
Questions / Comments
Source : https://www.dcode.fr/word-streak-with-friends-solver
© 2021 dCode — The ultimate 'toolkit' to solve every games / riddles / geocaching / CTF.