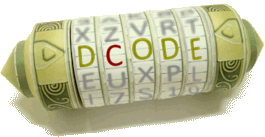 Search for a tool
Codycross Solver
Tool / Solver to solve the crossword of Codycross. Codycross is a set of definitions similar to crosswords whose purpose is to find words from definitions.
Codycross Solver - dCode
Tag(s) : Word Games, Mobile Games
Share
dCode and more
dCode is free and its tools are a valuable help in games, maths, geocaching, puzzles and problems to solve every day!
A suggestion ? a feedback ? a bug ? an idea ? Write to dCode!
Codycross Solver
Find a Word for Codycross
Find password of the day
This Codycross of the day game mode is a copy of the Wordle game, dCode has a dedicated solver for it:
Answers to Questions (FAQ)
What is a Codycross solver? (Definition)
Codycross is a word game similar to crosswords. The player must find words using definitions, word length, and any correctly placed letters in the word. The solver makes it possible to automatically list the possible answers in a given dictionary.
How to solve a Codycross grid?
CodyCross's solutions involve finding words for definitions, but it is possible to go through a resolution based on the length of words and letters already known.
Indicate known and unknown letters (replaced by ? , - , . , _ , * , or space) to fill in the search pattern and dCode will search its database to find all possible words in the requested dictionary.
Example: S-L---ON gives SOLUTION or SALPICON (A type of stuffing used especially for veal)
The percentages of the most likely letters are displayed if necessary.
Do not type the definition of the crossword but try to compare it with the words proposed.
How to know the definitions of the words?
To reconcile the words found with their definition, click on the proposals to get a tooltip containing the word definition(s).
The grids of Codycross evolve, the answers of the levels 1,2,3,4,5 etc. change from time to time.
Source code
dCode retains ownership of the "Codycross Solver" source code. Except explicit open source licence (indicated Creative Commons / free), the "Codycross Solver" algorithm, the applet or snippet (converter, solver, encryption / decryption, encoding / decoding, ciphering / deciphering, breaker, translator), or the "Codycross Solver" functions (calculate, convert, solve, decrypt / encrypt, decipher / cipher, decode / encode, translate) written in any informatic language (Python, Java, PHP, C#, Javascript, Matlab, etc.) and all data download, script, or API access for "Codycross Solver" are not public, same for offline use on PC, mobile, tablet, iPhone or Android app!
Reminder : dCode is free to use.
Cite dCode
The copy-paste of the page "Codycross Solver" or any of its results, is allowed (even for commercial purposes) as long as you cite dCode!
Exporting results as a .csv or .txt file is free by clicking on the export icon
Cite as source (bibliography):
Codycross Solver on dCode.fr [online website], retrieved on 2023-09-30, https://www.dcode.fr/codycross-solver
Summary
Similar pages
Support
Forum/Help

Keywords
codycross,crossword,word,cross,dictionary,definition
Links
https://www.dcode.fr/codycross-solver
© 2023 dCode — The ultimate 'toolkit' to solve every games / riddles / geocaching / CTF.
▲