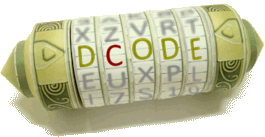 Search for a tool
Mirror Writing
Tool to make mirror writing. Mirror writing has been popularized by Leonardo Da Vinci and consist in writing a text in a way it will be readable only if reflected in a mirror.
Mirror Writing - dCode
Tag(s) : Fun/Miscellaneous, Steganography
Share
dCode and more
dCode is free and its tools are a valuable help in games, maths, geocaching, puzzles and problems to solve every day!
A suggestion ? a feedback ? a bug ? an idea ? Write to dCode!
Mirror Writing
Mirror Text Generator
Read like in a Mirror
Answers to Questions (FAQ)
What is mirror writing? (Definition)
The mirror writing, sometimes called specular writing, is the writing of a message in reverse from a text reflected symmetrically as in a mirror.
How to write in mirror writing?
Automatic method: use dCode, indicate your text (with several handwriting renderings) or an image.
Manual method: to make this operation by hand, the best way is to use a mirror and rewrite it by looking at 45°.
The result generated on dCode is an image that can be copy-pasted into a word processor or an email but on most websites that will not work because they do not provide this functionality.
Only image files (JPEG, PNG, etc.) are accepted in the upload form. For DOC, WORD, PDF copy the text parts in the form input.
Why Leonardo da Vinci wrote using mirror writing?
Leonardo da Vinci is known to have written some notes with a mirror writing, probably to avoid an encryption while retaining a reasonable write speed. Leonardo was left-handed and it is slightly easier to write from right to left for a left-handed person.
When to use mirror writing?
Mirror writing is sometimes used on ambulances or police vehicules in order to be read through a back-viewer.
Some people, often forced right-handed, testify to write easily / regularly in the mirror, for pleasure or because they have the feeling that their hand prefers this mode of writing.
More generally, it's a fun way to hide text and make it less readable.
Who are the authors of used fonts?
The default Leonard de Vinci 1 font is a Behance creation here (link) (non-commercial license)
The font 2 is called Leonardo Hand Forward is a creation of typo969 here (link) (non-commercial use license)
The other fonts are Microsoft fonts (Arial and Comic Sans)
Source code
dCode retains ownership of the "Mirror Writing" source code. Except explicit open source licence (indicated Creative Commons / free), the "Mirror Writing" algorithm, the applet or snippet (converter, solver, encryption / decryption, encoding / decoding, ciphering / deciphering, translator), or the "Mirror Writing" functions (calculate, convert, solve, decrypt / encrypt, decipher / cipher, decode / encode, translate) written in any informatic language (Python, Java, PHP, C#, Javascript, Matlab, etc.) and all data download, script, or API access for "Mirror Writing" are not public, same for offline use on PC, mobile, tablet, iPhone or Android app!
Reminder : dCode is free to use.
Cite dCode
The copy-paste of the page "Mirror Writing" or any of its results, is allowed as long as you cite dCode!
Cite as source (bibliography):
Mirror Writing on dCode.fr [online website], retrieved on 2022-12-09, https://www.dcode.fr/mirror-writing
https://www.dcode.fr/mirror-writing
© 2022 dCode — The ultimate 'toolkit' to solve every games / riddles / geocaching / CTF.
▲