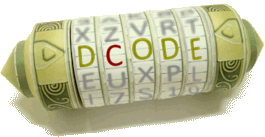 Search for a tool
Uppercase Lowercase
Tool to convert uppercase and lowercase. In typography, for each writing font, characters are arranged in cases. Lower cases are for minuscules, and upper cases are for capital letters.
Uppercase Lowercase - dCode
Tag(s) : Steganography, Communication System, Fun/Miscellaneous
Share
dCode and more
dCode is free and its tools are a valuable help in games, maths, geocaching, puzzles and problems to solve every day!
A suggestion ? a feedback ? a bug ? an idea ? Write to dCode!
Uppercase Lowercase
Convert into Uppercase - Lowercase
Action depending on case
Answers to Questions (FAQ)
How to change case (switch case uppercase to lowercase and vice-versa)?
The software analyses if text characters (Unicode characters are taken into account) are upper case or lower case and realize the desired transformations.
Example: The message dCode can be converted:
All uppercase: DCODE
All lowercase: dcode
Invert case: DcODE (uppercase to lowercase and lowercase to uppercase)
First letter uppercase: DCode ou Dcode
Support for vowels and consonants dcOdE or DCoDe
Uppercase letters are also called the Capital letters.
Numbers and other non-alphabetic characters are not taken into account when transforming by the upper-lower conversion tool.
What is the Case?
In computing, case is the name given to the distinction between uppercase and lowercase characters. Case changing is the term for switching from one case to the other. Also when searching for text, the case can be ignored (a word written in upper or lower case will be treated indifferently).
Why binarizing uppercase and lowercase?
A steganography technique uses upper and lower case letters to hide and encode information in 0 and 1.
Example: COdE becomes 1101 (or 0010)
Bacon cipher or more generally any binary format can use this method.
Source code
dCode retains ownership of the online "Uppercase Lowercase" tool source code. Except explicit open source licence (indicated CC / Creative Commons / free), any "Uppercase Lowercase" algorithm, applet or snippet (converter, solver, encryption / decryption, encoding / decoding, ciphering / deciphering, translator), or any "Uppercase Lowercase" function (calculate, convert, solve, decrypt / encrypt, decipher / cipher, decode / encode, translate) written in any informatic language (Python, Java, PHP, C#, Javascript, Matlab, etc.) and no data download, script, copy-paste, or API access for "Uppercase Lowercase" will be for free, same for offline use on PC, tablet, iPhone or Android ! dCode is free and online.
Need Help ?
Please, check our dCode Discord community for help requests!
NB: for encrypted messages, test our automatic cipher identifier!
Questions / Comments
Summary
Source : https://www.dcode.fr/uppercase-lowercase
© 2021 dCode — The ultimate 'toolkit' to solve every games / riddles / geocaching / CTF.