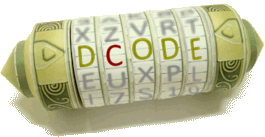 Search for a tool
Acronyms Generator
Tool to generate acronyms, abbreviations that are easy to remember and pronounce. A good acronym comes from a good generator
Acronyms Generator - dCode
Tag(s) : Data Processing
Share
dCode and more
dCode is free and its tools are a valuable help in games, maths, geocaching, puzzles and problems to solve every day!
A suggestion ? a feedback ? a bug ? an idea ? Write to dCode!
Acronyms Generator
Generate acronyms
Answers to Questions (FAQ)
What is an acronym? (Definition)
Acronyms are abbreviations created to shorten long complex name (for projects or companies) into pronounceable words. Shorter, acronyms are easier to remember and can become actual words (or be inspired by actual words).
How to create an acronym?
Enter the important words that represent the object of Acronym (project, title, business, etc.) and dCode will extract the letters to make/build the best acronyms.
Example: Best fanclub for dCode => BEFAD
The creation of an acronym is very important to give a good designation, a name to a project or a company. A good acronym must be easy to pronounce and concise (so easy to write and/or mnemonic).
How to create a mnemonic word?
To remember a list of words, it may be useful to remember only the initials or first syllables.
And conversely, it can be practical to learn a sentence to remember letters or syllables:
Example: To learn the periodic table of elements: Native Magpies Always Sit Peacefully Searching Clear Areas.
How to find the name of a project?
Note the important keywords and use the acronym generator to obtain combinations of letters that can be used as acronyms. A majority of results will not be appropriate, but chances are good that a project name will be in the list.
What is the smart sorting?
Smart sort aims to filter acronyms easy to pronounce.
Example: BEFAD is more readable than BFD
This function has a tendency to favor long acronyms with syllables to short sigle made of initials.
What are the limits of this generator?
This acronym generator/builder/maker generates acronyms from letters (often uppercase), digits are ignored.
What is the difference between abbreviation and acronym?
An acronym is an abbreviation that has the advantage of being able to pronounce easily to make a word (and not a continuation of letter spelled).
What is acronym plural form?
Some acronyms have entered the dictionary and can have a plural form but this is not always the case, there is no rule to pluralize an acronym.
Source code
dCode retains ownership of the "Acronyms Generator" source code. Except explicit open source licence (indicated Creative Commons / free), the "Acronyms Generator" algorithm, the applet or snippet (converter, solver, encryption / decryption, encoding / decoding, ciphering / deciphering, translator), or the "Acronyms Generator" functions (calculate, convert, solve, decrypt / encrypt, decipher / cipher, decode / encode, translate) written in any informatic language (Python, Java, PHP, C#, Javascript, Matlab, etc.) and all data download, script, or API access for "Acronyms Generator" are not public, same for offline use on PC, mobile, tablet, iPhone or Android app!
Reminder : dCode is free to use.
Cite dCode
The copy-paste of the page "Acronyms Generator" or any of its results, is allowed as long as you cite dCode!
Cite as source (bibliography):
Acronyms Generator on dCode.fr [online website], retrieved on 2022-12-09, https://www.dcode.fr/acronym-generator
https://www.dcode.fr/acronym-generator
© 2022 dCode — The ultimate 'toolkit' to solve every games / riddles / geocaching / CTF.
▲