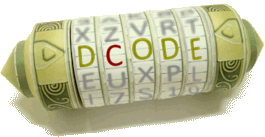 Search for a tool
Acrostic Extractor
Tool to extract the contents of an acrostic. Extractor allowing to reveal the hidden content of a text.
Acrostic Extractor - dCode
Tag(s) : Steganography, Data Processing
Share
dCode and more
dCode is free and its tools are a valuable help in games, maths, geocaching, puzzles and problems to solve every day!
A suggestion ? a feedback ? a bug ? an idea ? Write to dCode!
Acrostic Extractor
Extract hidden text in an acrostic
Answers to Questions (FAQ)
What is an acrostic? (Definition)
An acrostic is a text or poem which can reveal a second hidden text, e.g. using initials of each line, or each word.
What are the elements extracted from the acrostic?
It is possible to extract multiples items (non-exhaustive list) from a text, document or poem written as an acrostic.
Example: The text: ABC DEFGH I JK,
LMNOPQ RSTU,
VW XYZ.
— Initial letter of a line
Example: With a vertical reading: ALV
— Initial letter of a word
Example: The first letters are ADIJLRVX
— Letters in the middle or words or lines (mesostic)
— Last letters of words or line (telestic)
— First and last letters of words or line (acroleuton).
Generally, the hidden text is a name, a password, a first name, a secret code etc. The default example of dCode is from a psalm from Edgar Allan Poe. Other famous writers such as George Sand and Alfred de Musset have written famous acrostics.
How to hide a sentence through a poem?
Take one of these techniques and let talent write! This function cannot be automated, computer does not have (yet) any imagination! Come back in a few years for an acrostic generator.
Source code
dCode retains ownership of the "Acrostic Extractor" source code. Except explicit open source licence (indicated Creative Commons / free), the "Acrostic Extractor" algorithm, the applet or snippet (converter, solver, encryption / decryption, encoding / decoding, ciphering / deciphering, translator), or the "Acrostic Extractor" functions (calculate, convert, solve, decrypt / encrypt, decipher / cipher, decode / encode, translate) written in any informatic language (Python, Java, PHP, C#, Javascript, Matlab, etc.) and all data download, script, or API access for "Acrostic Extractor" are not public, same for offline use on PC, tablet, iPhone or Android !
The copy-paste of the page "Acrostic Extractor" or any of its results, is allowed as long as you cite the online source https://www.dcode.fr/acrostic-extraction
Reminder : dCode is free to use.
Summary
Similar pages
Support
Forum/Help

Keywords
acrostic,mesostic,first,word,line,letter,poem,psalm,alfred,musset,george,sand,edgar,allan,poe
Links
Source : https://www.dcode.fr/acrostic-extraction
© 2022 dCode — The ultimate 'toolkit' to solve every games / riddles / geocaching / CTF.
▲