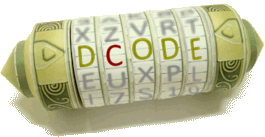 Search for a tool
Word Contraction Generator
Tool to generate portmanteau words, these invented contractions of words used to convey a concept. Often used as a hashtag generator on social networks.
Word Contraction Generator - dCode
Tag(s) : Fun/Miscellaneous
Share
dCode and more
dCode is free and its tools are a valuable help in games, maths, geocaching, puzzles and problems to solve every day!
A suggestion ? a feedback ? a bug ? an idea ? Write to dCode!
Word Contraction Generator
Word Contraction Creator
Answers to Questions (FAQ)
What is a portmanteau word?
A portmanteau word is a contraction of two words or a group of words. To create a portmanteau word, remove the end (the last syllables) of the first word and the beginning (the first syllable) of the second word before concatenating the two parts to form a new invented word.
Example: BRITAIN + EXIT => BREXIT
The dCode portmanteau creator allows you to use up to 3 words and test all permutations to create the ideal invented word.
How to generate a portmanteau word?
The contraction should apply with the vowels to facilitate the reading of the new word. It may also be interesting to identify letters (vowels or consonants) present in both parts of the word to merge them.
Example: BRAD + ANGELINA => BRANGELINA
This portmanteau maker tool can be used as a hashtag generator for social networks like Twitter.
Which are the most common portmanteau words?
List of best portmanteau inventions words:
BRUNCH = BREAKFAST + LUNCH
EMOTICON = EMOTION + ICON
INFORMERCIAL = INFORMATION + COMMERCIAL
MOTEL = MOTOR + HOTEL
PODCAST = iPOD + BROADCAST
POKEMON = POCKET + MONSTER
SITCOM = SITUATIONAL + COMEDY
Source code
dCode retains ownership of the "Word Contraction Generator" source code. Except explicit open source licence (indicated Creative Commons / free), the "Word Contraction Generator" algorithm, the applet or snippet (converter, solver, encryption / decryption, encoding / decoding, ciphering / deciphering, translator), or the "Word Contraction Generator" functions (calculate, convert, solve, decrypt / encrypt, decipher / cipher, decode / encode, translate) written in any informatic language (Python, Java, PHP, C#, Javascript, Matlab, etc.) and all data download, script, or API access for "Word Contraction Generator" are not public, same for offline use on PC, tablet, iPhone or Android !
The copy-paste of the page "Word Contraction Generator" or any of its results, is allowed as long as you cite the online source https://www.dcode.fr/word-contraction-generator
Reminder : dCode is free to use.
Summary
Similar pages
Support
Forum/Help

Keywords
portmanteau,contraction,word,hashtag,twitter,generator,maker,invention
Links
Source : https://www.dcode.fr/word-contraction-generator
© 2022 dCode — The ultimate 'toolkit' to solve every games / riddles / geocaching / CTF.