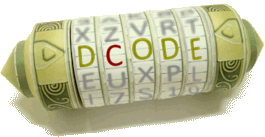 Search for a tool
Word Counter
Tool for counting words in a text/document. The words counter allow analyzing the frequency of occurrences of each word in text sentences.
Word Counter - dCode
Tag(s) : Data Processing
Share
dCode and more
dCode is free and its tools are a valuable help in games, maths, geocaching, puzzles and problems to solve every day!
A suggestion ? a feedback ? a bug ? an idea ? Write to dCode!
Word Counter
Word Counter
Answers to Questions (FAQ)
How to count the number of words in a document?
Write or copy/paste a text into the textarea and the counter will automatically count the number of words, their number of letters (length/size). It is possible to count manually the occurrences of each word, but it is still easier when the computer counts!
Example: MORE WORDS AND WORDS COUNTING has 5 words, 4 distinct, and 4 words with at least 4 letters. The word WORDS is present twice while the other words are present only once.
It is possible to indicate a length threshold from which to count a word, for example to ignore words of 1 or 2 letters.
What is the occurrence frequency of a word?
The frequency of appearance of words is a statistical index that is defined by the ratio of the number of occurrences of a given word out of the total number of words in a text. It can, for example, allow to list the most common words, the keywords of a text.
There are advanced tools for analyzing bigrams or trigrams in a text, often for cryptographic purposes.
Source code
dCode retains ownership of the "Word Counter" source code. Except explicit open source licence (indicated Creative Commons / free), the "Word Counter" algorithm, the applet or snippet (converter, solver, encryption / decryption, encoding / decoding, ciphering / deciphering, translator), or the "Word Counter" functions (calculate, convert, solve, decrypt / encrypt, decipher / cipher, decode / encode, translate) written in any informatic language (Python, Java, PHP, C#, Javascript, Matlab, etc.) and all data download, script, or API access for "Word Counter" are not public, same for offline use on PC, mobile, tablet, iPhone or Android app!
Reminder : dCode is free to use.
Cite dCode
The copy-paste of the page "Word Counter" or any of its results, is allowed as long as you cite dCode!
Cite as source (bibliography):
Word Counter on dCode.fr [online website], retrieved on 2022-09-29, https://www.dcode.fr/words-count
Summary
Similar pages
Support
Forum/Help

Keywords
counter,count,word,text,document,occurrence,frequency,length,statistic
Links
https://www.dcode.fr/words-count
© 2022 dCode — The ultimate 'toolkit' to solve every games / riddles / geocaching / CTF.
▲