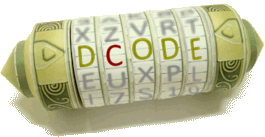 Search for a tool
Letters Extraction
Tool to extract letters from a message according to a pattern. It is possible to hide a text into another by adding parasites letters. Letters can follow a regular extraction pattern (eg: 1 letter of 2).
Letters Extraction - dCode
Tag(s) : Steganography, Data Processing
Share
dCode and more
dCode is free and its tools are a valuable help in games, maths, geocaching, puzzles and problems to solve every day!
A suggestion ? a feedback ? a bug ? an idea ? Write to dCode!
Letters Extraction
Letters Extractor from a Text
Answers to Questions (FAQ)
How to extract letters from a text?
Take the message ABCDEFGHIJKLMNOPQRSTUVWXYZ, dCode offers different modes for letters extraction:
Take 1 of N letters
Example: Taking 1 of 2 letters: A-C-E-G-I-K-M-O-O-O-U-W-Y-
Example: Taking 1 of 3 letters: A--D--G--J--M--P--S--V--Y-
Extract a pattern
Example: The pattern 2,3 means to take 1 letter each 2 and 1 letter each 3: A-C--F-H--K-M--P-R--U-W--Z
Extract by mask (1 = preserved letter, 0 = letter ignored)
Example: Using the binary mask 101: A-CD-FG-IJ-LM-OP-RS-UV-XY
The patterns and masks are repeated until reaching the end of the message.
If needed, start using any letter rather than the first letter.
Example: Taking a letter of 2 (starting at position 1): A-C-E-G-I-K-M-O-O-O-U-W-Y-
Example: Taking a letter of 2 (starting at position 2): -B-D-F-H-J-L-N-P-R-T-V-X-Z
Punctuation may (or may not) be taken into account in characters count.
How to extract letters in Excel?
Although this is not practical, Excel provides functions such as RIGHT() or LEFT() to extract N letters at the beginning or end of words. (dCode is better and recommended)
What is an acrostic?
An acrostic is a poem or message from which certain letters or words can be extracted to give a second meaning to the message.
Source code
dCode retains ownership of the online "Letters Extraction" source code. Except explicit open source licence (indicated CC / Creative Commons / free), the "Letters Extraction" algorithm, the applet or snippet (converter, solver, encryption / decryption, encoding / decoding, ciphering / deciphering, translator), or the "Letters Extraction" functions (calculate, convert, solve, decrypt / encrypt, decipher / cipher, decode / encode, translate) written in any informatic language (Python, Java, PHP, C#, Javascript, Matlab, etc.) and all data download, script, copy-paste, or API access for "Letters Extraction" are not public, same for offline use on PC, tablet, iPhone or Android ! Remainder : dCode is free to use.
Need Help ?
Please, check our dCode Discord community for help requests!
NB: for encrypted messages, test our automatic cipher identifier!
Questions / Comments
Summary
Similar pages
Support
Forum/Help

Keywords
extract,take,letter,pattern,step
Links
Source : https://www.dcode.fr/letters-extraction
© 2021 dCode — The ultimate 'toolkit' to solve every games / riddles / geocaching / CTF.