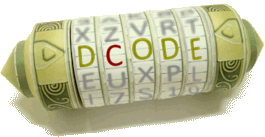 Search for a tool
Word Mixer
Tools for mixing words (names, first names, etc.). The word mixer makes new or existing words (suitcase words, longest word, anagrams, etc.)
Word Mixer - dCode
Tag(s) : Fun/Miscellaneous, Word Games
Share
dCode and more
dCode is free and its tools are a valuable help in games, maths, geocaching, puzzles and problems to solve every day!
A suggestion ? a feedback ? a bug ? an idea ? Write to dCode!
Word Mixer
Word/Name Mixer
Answers to Questions (FAQ)
How to mix word or names? (Definition)
There are several ways to mix words (or more precisely from words' letters).
Generating a contraction word (portmanteau)
Two words can be contracted/fused into one (which exists or not)
Example: BRITAIN+EXIT=BREXIT
This method is popular on social networks to fusion two words and create hashtags
Generating an anagram
Letters can be mixed/scrambled and swapped together to get 1 or more words (but sometimes none exists in the dictionary).
This method can also generate pseudonyms.
Example: SALVADOR DALI <=> AVIDA DOLLARS
Combining only some letters
It is sometimes impossible to generate anagrams but using some of the letters may be enough (similar to the longest word problem).
Example: The letters TWO+WORDS can create the words ROOT, DOTS, etc.
This also works with first names:
Example: TWO+FIRSTNAMES can give SIMONETTA, RAMSES, STEFANO, etc.
Why mixing word or names?
Mixing words makes it possible to create new concepts, the generator/mixer brings new ideas combining words, surnames or first names that have a meaning, both in the mechanics of mixing/combining and in the result (the generated word can / must remain comprehensible)
How to shuffle letters in a word?
Source code
dCode retains ownership of the "Word Mixer" source code. Except explicit open source licence (indicated Creative Commons / free), the "Word Mixer" algorithm, the applet or snippet (converter, solver, encryption / decryption, encoding / decoding, ciphering / deciphering, translator), or the "Word Mixer" functions (calculate, convert, solve, decrypt / encrypt, decipher / cipher, decode / encode, translate) written in any informatic language (Python, Java, PHP, C#, Javascript, Matlab, etc.) and all data download, script, or API access for "Word Mixer" are not public, same for offline use on PC, mobile, tablet, iPhone or Android app!
Reminder : dCode is free to use.
Cite dCode
The copy-paste of the page "Word Mixer" or any of its results, is allowed as long as you cite dCode!
Cite as source (bibliography):
Word Mixer on dCode.fr [online website], retrieved on 2022-09-30, https://www.dcode.fr/words-mixer
Summary
Similar pages
Support
Forum/Help

Keywords
mix,word,name,surname,generate,combine,mashup,mixer
Links
https://www.dcode.fr/words-mixer
© 2022 dCode — The ultimate 'toolkit' to solve every games / riddles / geocaching / CTF.
▲