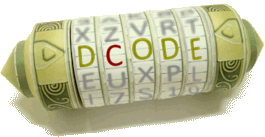 Search for a tool
Pseudonyms/Nicknames Generator
Tool to generate Nicknames, false names and other profiles. The pseudonyms generator can use letters of your first and last name (using anagrams) or generating may be random.
Pseudonyms/Nicknames Generator - dCode
Tag(s) : Fun/Miscellaneous, Internet
Share
dCode and more
dCode is free and its tools are a valuable help in games, maths, geocaching, puzzles and problems to solve every day!
A suggestion ? a feedback ? a bug ? an idea ? Write to dCode!
Pseudonyms/Nicknames Generator
Pseudonym Generation
Answers to Questions (FAQ)
What is a pseudonym? (Definition)
A pseudonym is a fake name / alias used by a person to hide / distinguish / substitute for their real identity (fake id).
Example: Mark Twain is the pseudonym/pen name of Samuel Langhorne Clemens
Example: On the Internet, in video games and forums most people use a nickname.
How to generate a pseudonym/fake name?
What is a fake identity?
A fake ID is using a pseudonym is usually limited to a public or private sphere excluding the official dimension. Legally and administratively speaking, it is not possible to have multiple identities, otherwise it can be a crime of false identity or identity theft.
Please use this pen name maker for legal purposes to easily get pseudo/nickname ideas.
Source code
dCode retains ownership of the "Pseudonyms/Nicknames Generator" source code. Except explicit open source licence (indicated Creative Commons / free), the "Pseudonyms/Nicknames Generator" algorithm, the applet or snippet (converter, solver, encryption / decryption, encoding / decoding, ciphering / deciphering, translator), or the "Pseudonyms/Nicknames Generator" functions (calculate, convert, solve, decrypt / encrypt, decipher / cipher, decode / encode, translate) written in any informatic language (Python, Java, PHP, C#, Javascript, Matlab, etc.) and all data download, script, or API access for "Pseudonyms/Nicknames Generator" are not public, same for offline use on PC, mobile, tablet, iPhone or Android app!
Reminder : dCode is free to use.
Cite dCode
The copy-paste of the page "Pseudonyms/Nicknames Generator" or any of its results, is allowed as long as you cite dCode!
Cite as source (bibliography):
Pseudonyms/Nicknames Generator on dCode.fr [online website], retrieved on 2022-12-09, https://www.dcode.fr/pseudonym-generator
Summary
Similar pages
Support
Forum/Help

Keywords
pseudo,pseudonym,pen,alias,identity,fake,name,surname,lastname
Links
https://www.dcode.fr/pseudonym-generator
© 2022 dCode — The ultimate 'toolkit' to solve every games / riddles / geocaching / CTF.
▲