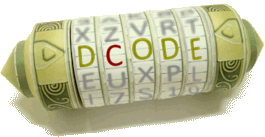 Search for a tool
Shuffled Letters
Tool to shuffle letters. Mixing letters of a message is enough to make it incomprehensible. It is possible to perform blocks permutations to make group of shuffled letters.
Shuffled Letters - dCode
Tag(s) : Word Games
Share
dCode and more
dCode is free and its tools are a valuable help in games, maths, geocaching, puzzles and problems to solve every day!
A suggestion ? a feedback ? a bug ? an idea ? Write to dCode!
Shuffled Letters
Letter Un-Shuffler
Letter Shuffler/Word Shuffler
Answers to Questions (FAQ)
How to encrypt using a letter shuffler?
Letters shuffling is a transposition cipher, as the name suggests, consists in mixing the letters of the plain message. But that mix must follow certain rules to make it reversible, at least in part.
Mix by writing backwards
An easy reversible mixing is to write backward, the message become less readable.
Mix by random write
If all the letters are randomly shuffled once, it will be very difficult (if not impossible) to recover the original message without knowing the permutation used.
Split by words
In order not to make too complex mixtures, the message can be broken down into words. It will then generate an anagram of the word (which exists or not).
Split by blocks
For an easier shuffling, the message may be broken down by a fixed block size. Generally, it is best to use short blocks.
Example: If the block size is 2, take the letters in pairs, and reverse their position DCODE becomes CDDOE.
How to decrypt a letter shuffled cipher?
Decryption requires to recover the original order of mixed letters.
If it is a word split, find the existing anagrams, and among these, the right original word.
If it is a block split, find the original permutation again several solutions possible, if the permutation is random, find the most logical/plausible one.
What is the typoglycemic shuffling?
dCode has a tool for mixing the letters of a message while keeping it (theoretically) readable by a human: see the typoglycemia tool.
Source code
dCode retains ownership of the online "Shuffled Letters" source code. Except explicit open source licence (indicated CC / Creative Commons / free), the "Shuffled Letters" algorithm, the applet or snippet (converter, solver, encryption / decryption, encoding / decoding, ciphering / deciphering, translator), or the "Shuffled Letters" functions (calculate, convert, solve, decrypt / encrypt, decipher / cipher, decode / encode, translate) written in any informatic language (Python, Java, PHP, C#, Javascript, Matlab, etc.) and all data download, script, copy-paste, or API access for "Shuffled Letters" are not public, same for offline use on PC, tablet, iPhone or Android ! Remainder : dCode is free to use.
Need Help ?
Please, check our dCode Discord community for help requests!
NB: for encrypted messages, test our automatic cipher identifier!
Questions / Comments
Summary
Similar pages
Support
Forum/Help

Keywords
shuffle,mix,invert,block,letter,permutation,reverse,anagram,mixer,shuffler
Links
Source : https://www.dcode.fr/shuffled-letters
© 2021 dCode — The ultimate 'toolkit' to solve every games / riddles / geocaching / CTF.