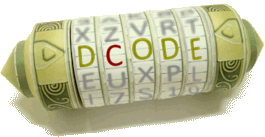 Search for a tool
Sort Letters
Tool to sort letters of the alphabet. Sorting letters allows to organize a word or a sequence of letters according to alphabetical order.
Sort Letters - dCode
Tag(s) : Data Processing
Share
dCode and more
dCode is free and its tools are a valuable help in games, maths, geocaching, puzzles and problems to solve every day!
A suggestion ? a feedback ? a bug ? an idea ? Write to dCode!
Sort Letters
Sorting Letters
This tool arranges letters, to sort words, use the dCode list sorter
Answers to Questions (FAQ)
How to sort letters of a word?
Sorting letters can be done according to 3 sorting methods
Sort by Alphabetical order: letters from A to Z (ascending order)
Example: DCODE is sorted CDDEO
Sort by Reverse alphabetical order: letters Z to A (descending order)
Example: DCODE is sorted OEDDC
Sort by Random order (different order each time)
Example: DCODE is sorted CEDOD ou DOCED, etc. (randomly)
How to arrange the letters of several words?
It is possible to sort letters as a whole block or by distinguishing words. Here is an example with alphabetic order.
Example: 'DCODE ME' considered as a single block of letters is sorted CDDEEMO
Example: 'DCODE ME' considered as two separated words is sorted CDDEO EM
How to make a letter sorting workshop?
For kindergarten or cycle 3 students, use the dCode tool to generate random letters and have pupils arrange letters in alphabetical or antialphabetical order. If necessary, use this tool to check their arrangement.
Source code
dCode retains ownership of the online "Sort Letters" source code. Except explicit open source licence (indicated CC / Creative Commons / free), the "Sort Letters" algorithm, the applet or snippet (converter, solver, encryption / decryption, encoding / decoding, ciphering / deciphering, translator), or the "Sort Letters" functions (calculate, convert, solve, decrypt / encrypt, decipher / cipher, decode / encode, translate) written in any informatic language (Python, Java, PHP, C#, Javascript, Matlab, etc.) and all data download, script, copy-paste, or API access for "Sort Letters" are not public, same for offline use on PC, tablet, iPhone or Android ! Remainder : dCode is free to use.
Need Help ?
Please, check our dCode Discord community for help requests!
NB: for encrypted messages, test our automatic cipher identifier!
Questions / Comments
Summary
Source : https://www.dcode.fr/sort-letters
© 2021 dCode — The ultimate 'toolkit' to solve every games / riddles / geocaching / CTF.