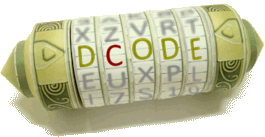 Search for a tool
HTML Comments
Tool to read and extract HTML comments from source code or web page automatically (Javascript/CSS comments included)
HTML Comments - dCode
Tag(s) : Informatics
Share
dCode and more
dCode is free and its tools are a valuable help in games, maths, geocaching, puzzles and problems to solve every day!
A suggestion ? a feedback ? a bug ? an idea ? Write to dCode!
HTML Comments
Comments Extractor
Answers to Questions (FAQ)
What is an HTML comment?
A comment in HTML is a message indicated between tags <!-- and --> which is intended for a reader of the HTML source code of a web page.
Example: <!-- HTML comment -->
What is a Javascript comment?
A Javascript comment is a message indicated between the characters '/ *' and '* /' or following the characters // in a source code in Javascript.
Example: /* Javascript comment 1 */
Example: // Javascript comment 2
What is a CSS comment?
A CSS comment is a message indicated between the characters '/ *' and '* /' in a style sheet source code.
Example: /* CSS comment */
Why reading or extracting comments?
Comments are normally deleted when the pages are put into production, and intended only for people developing them, detecting them allows them to be deleted.
Comments can be a way to leave a hidden message, because they are not visible on a web page, at least not visible without accessing the source code.
Source code
dCode retains ownership of the online "HTML Comments" source code. Except explicit open source licence (indicated CC / Creative Commons / free), the "HTML Comments" algorithm, the applet or snippet (converter, solver, encryption / decryption, encoding / decoding, ciphering / deciphering, translator), or the "HTML Comments" functions (calculate, convert, solve, decrypt / encrypt, decipher / cipher, decode / encode, translate) written in any informatic language (Python, Java, PHP, C#, Javascript, Matlab, etc.) and all data download, script, copy-paste, or API access for "HTML Comments" are not public, same for offline use on PC, tablet, iPhone or Android ! Remainder : dCode is free to use.
Need Help ?
Please, check our dCode Discord community for help requests!
NB: for encrypted messages, test our automatic cipher identifier!
Questions / Comments
Summary
Similar pages
Support
Forum/Help

Keywords
comment,source,code,html,javascript,css
Links
Source : https://www.dcode.fr/html-comments
© 2021 dCode — The ultimate 'toolkit' to solve every games / riddles / geocaching / CTF.