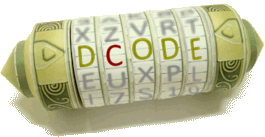 Search for a tool
German Accent
Tool to mimic german accent. In order to give credibility to a german accent (spoken or written), a text must recreate a germanic accent.
German Accent - dCode
Tag(s) : Fun/Miscellaneous, Communication System
Share
dCode and more
dCode is free and its tools are a valuable help in games, maths, geocaching, puzzles and problems to solve every day!
A suggestion ? a feedback ? a bug ? an idea ? Write to dCode!
German Accent
German Accent Generator
Answers to Questions (FAQ)
How to speak with a german accent?
German accent can be obtained by making sounds from the back of the throat (guttural sounds), and replacing sounds T by D, J by CH, S by Z, G by K (and conversely). The use of H aspirated before certain vowels is also characteristic. The German accent in writing can be restranscribed in the manner of dCode.
Example: dCode is ein great zite! Jawohl!
In Germany, phonology has many bass sounds and hard consonants. The pronunciation of this language is very guttural which facilitates imitation of the teutonic accent.
The German accent is generally used in movies about World War 2, it is accompanied by interjections like Ja, or Arheu, and the use of determinants as der or das.
Not all Germans speak that way, this funny tool must be taken with humor.
What are the different german accents?
There are three major types of German accents, the first is the Standard German, the second is derived from Austrian German, and the last from Swiss German.
How to listen to the voice or sound?
dCode does not propose an audio conversion of the German accent but an idea of its Germanic pronunciation in writing. To listen to some German text, use Google Translate: here (link)
Source code
dCode retains ownership of the online "German Accent" tool source code. Except explicit open source licence (indicated CC / Creative Commons / free), any "German Accent" algorithm, applet or snippet (converter, solver, encryption / decryption, encoding / decoding, ciphering / deciphering, translator), or any "German Accent" function (calculate, convert, solve, decrypt / encrypt, decipher / cipher, decode / encode, translate) written in any informatic language (Python, Java, PHP, C#, Javascript, Matlab, etc.) and no data download, script, copy-paste, or API access for "German Accent" will be for free, same for offline use on PC, tablet, iPhone or Android ! dCode is free and online.
Need Help ?
Please, check our dCode Discord community for help requests!
NB: for encrypted messages, test our automatic cipher identifier!
Questions / Comments
Summary
Similar pages
Support
Forum/Help

Keywords
german,accent,germany,pronunciation,phonology,language,das,der,teutonic,mimic,imitation
Links
Source : https://www.dcode.fr/german-accent
© 2021 dCode — The ultimate 'toolkit' to solve every games / riddles / geocaching / CTF.