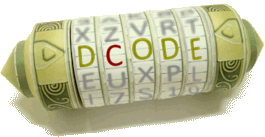 Search for a tool
Italian Accent
Tool to speak with a black italian accent. In order to give some credibility to a italian or sicilian accent, a texte must mimic pronunciation of a person from Italy.
Italian Accent - dCode
Tag(s) : Fun/Miscellaneous, Communication System
Share
dCode and more
dCode is free and its tools are a valuable help in games, maths, geocaching, puzzles and problems to solve every day!
A suggestion ? a feedback ? a bug ? an idea ? Write to dCode!
Italian Accent
Italian Accent Generator
Answers to Questions (FAQ)
How to speak with an italian accent?
This page has to be improved. Feel free to share your ideas.
To know how to make an italian accent, first, remove the TH sound from your pronunciation, TH is sometimes pronounced D or T. In the same way, H never have any sound.
The vowel i is pronounced as an e in English.
Example: italian may be pronounced eatalian
To make the whole more credible, there are details to add as moving your hands or talking fast.
Italians often use the negative interrogative form, adding no? to the end of a question.
This fake italian accent tool is not intended to stigmatize or make fun of Italian, their language, their dialect or their accent, but approximate the phonology of Italian accent and simplify its imitation.
How to get a fake Sicilian accent?
The Sicilian accent is identical to the Italian accent, but it is more accentuated, as in all the south of Italy. References to the movie the godfather can be useful.
How to listen to the voice or sound?
dCode does not propose an audio conversion of the Italian accent but an idea of its Italian pronunciation in writing. To listen to an Italian text, use Google Translate: here (link)
Source code
dCode retains ownership of the "Italian Accent" source code. Except explicit open source licence (indicated Creative Commons / free), the "Italian Accent" algorithm, the applet or snippet (converter, solver, encryption / decryption, encoding / decoding, ciphering / deciphering, breaker, translator), or the "Italian Accent" functions (calculate, convert, solve, decrypt / encrypt, decipher / cipher, decode / encode, translate) written in any informatic language (Python, Java, PHP, C#, Javascript, Matlab, etc.) and all data download, script, or API access for "Italian Accent" are not public, same for offline use on PC, mobile, tablet, iPhone or Android app!
Reminder : dCode is free to use.
Cite dCode
The copy-paste of the page "Italian Accent" or any of its results, is allowed (even for commercial purposes) as long as you cite dCode!
Exporting results as a .csv or .txt file is free by clicking on the export icon
Cite as source (bibliography):
Italian Accent on dCode.fr [online website], retrieved on 2023-12-05, https://www.dcode.fr/italian-accent
Summary
Similar pages
Support
Forum/Help

Keywords
italian,accent,italy,pronunciation,phonology,dialect,language,mimic,imitation,text,speech,generator,changer,translator
Links
https://www.dcode.fr/italian-accent
© 2023 dCode — The ultimate 'toolkit' to solve every games / riddles / geocaching / CTF.
▲