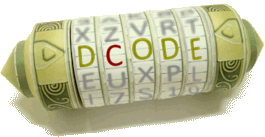 Search for a tool
Asian Accent
Tool to speak with an asian accent and give it credibility in a dialogue by using mimics of the pronunciation of a person from Asia.
Asian Accent - dCode
Tag(s) : Fun/Miscellaneous, Communication System
Share
dCode and more
dCode is free and its tools are a valuable help in games, maths, geocaching, puzzles and problems to solve every day!
A suggestion ? a feedback ? a bug ? an idea ? Write to dCode!
Asian Accent
Asian Accent Generator
Answers to Questions (FAQ)
How to speak with an asian accent?
To know how to do the Asian accent (or Chinese or Vietnamese accent), start by avoiding the pronunciation of r, and change the pronunciation of th to z.
To enlarge the caricature of a character who speaks English really badly, it is possible not to conjugate the verbs in the sentences.
Why speaking with an asian accent?
In writing accents cannot be rendered correctly, changing the writing of words to approximate pronunciation is a solution used by many novel writers.
Also, in the theater or in comedy, a person having to imitate an accent can be inspired by the writing to adapt his pronunciation.
This page is really not intended to stigmatize or make fun of Asian people or their accent, but rather render, if possible, with credibility, the phonology of Asian accent and simplify its imitation.
Source code
dCode retains ownership of the "Asian Accent" source code. Except explicit open source licence (indicated Creative Commons / free), the "Asian Accent" algorithm, the applet or snippet (converter, solver, encryption / decryption, encoding / decoding, ciphering / deciphering, translator), or the "Asian Accent" functions (calculate, convert, solve, decrypt / encrypt, decipher / cipher, decode / encode, translate) written in any informatic language (Python, Java, PHP, C#, Javascript, Matlab, etc.) and all data download, script, or API access for "Asian Accent" are not public, same for offline use on PC, mobile, tablet, iPhone or Android app!
Reminder : dCode is free to use.
Cite dCode
The copy-paste of the page "Asian Accent" or any of its results, is allowed as long as you cite dCode!
Cite as source (bibliography):
Asian Accent on dCode.fr [online website], retrieved on 2022-10-05, https://www.dcode.fr/asian-accent
Summary
Similar pages
Support
Forum/Help

Keywords
asian,asia,chinese,pronunciation,mimic,imitation
Links
https://www.dcode.fr/asian-accent
© 2022 dCode — The ultimate 'toolkit' to solve every games / riddles / geocaching / CTF.
▲