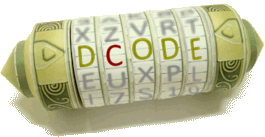 Search for a tool
Spanish Accent
Tool for speaking with a Spanish accent. To make a Hispanic accent credible, a message should imitate the pronunciation of someone from Spain (or South America).
Spanish Accent - dCode
Tag(s) : Fun/Miscellaneous, Communication System
Share
dCode and more
dCode is free and its tools are a valuable help in games, maths, geocaching, puzzles and problems to solve every day!
A suggestion ? a feedback ? a bug ? an idea ? Write to dCode!
Spanish Accent
Spanish Accent Generator
Answers to Questions (FAQ)
How to speak with a spanish accent?
When Spanish speaks English, several pronunciation characteristics are audible. It may be slight errors or distortions due to the intensive use of the mother tongue that does not apply the same rules as English. The most common speech defects are the pronounced rolling of R (Spanish is a language with rhotic sounds) or the end of syllables with d or t, b or p and v or f that are often confused and interchanged. Also the sound sh is pronounced s.
Example: 'I push my red car along the river' becomes 'I puss my rrret car along the rrriber'
Variations between continents (Europe for Spain, America for Mexico/Brazil) may exist.
Why imitate/write/speak with a spanish accent?
The intentionally degraded writing process to reveal pronunciation flaws is often used in novels or transcriptions of lyrics to give them some strength.
This tool is not made to stigmatize Spanish people or their accent, but rather to humorously render the phonology of the Spanish accent to simplify its imitation.
How to listen to the voice or sound?
dCode does not propose an audio conversion of the Spanish accent but an idea of its Spanish pronunciation in writing. To listen to an spanish text, use Google Translate: here (link)
Source code
dCode retains ownership of the online "Spanish Accent" source code. Except explicit open source licence (indicated CC / Creative Commons / free), the "Spanish Accent" algorithm, the applet or snippet (converter, solver, encryption / decryption, encoding / decoding, ciphering / deciphering, translator), or the "Spanish Accent" functions (calculate, convert, solve, decrypt / encrypt, decipher / cipher, decode / encode, translate) written in any informatic language (Python, Java, PHP, C#, Javascript, Matlab, etc.) and all data download, script, copy-paste, or API access for "Spanish Accent" are not public, same for offline use on PC, tablet, iPhone or Android ! Remainder : dCode is free to use.
Need Help ?
Please, check our dCode Discord community for help requests!
NB: for encrypted messages, test our automatic cipher identifier!
Questions / Comments
Summary
Similar pages
Support
Forum/Help

Keywords
spanish,hispanic,mexican,accent,spain,brazil,pronunciation,phonology,language,mimic,imitation,text,speech,generator,changer,translator
Links
Source : https://www.dcode.fr/spanish-accent
© 2021 dCode — The ultimate 'toolkit' to solve every games / riddles / geocaching / CTF.