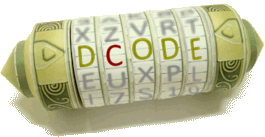 Search for a tool
Zip Password
Tool to find the password of a Zip file with AES/ZipCrypto encrypted data (brute-force attempt on the archive to be cracked)
Zip Password - dCode
Tag(s) : Informatics
Share
dCode and more
dCode is free and its tools are a valuable help in games, maths, geocaching, puzzles and problems to solve every day!
A suggestion ? a feedback ? a bug ? an idea ? Write to dCode!
Zip Password
Zip Password Finder
Answers to Questions (FAQ)
What is a zip password? (Definition)
A Zip file is a file format for archiving other files with compression. The files contained in the archive can be protected by a password. This is the password for the Zip file.
How to find the password of a Zip file?
The only way to recover a Zip password is to test them all.
Select the Zip file on your device and click Find.
How to speed up password search?
The search is a time-consuming job (usually several hours), it is recommended to limit the search according to the size of the password, and the characters used.
Example: A 3-character password containing only lowercase letters requires 17576 attempts, while it will require 238328 attempts (13 times more) if it consists of uppercase, lowercase and digits.
dCode uses the resources of your browser and your device, the more powerful it is, the faster the calculations will be.
NB: This Zip cracker is a free and online tool, there are applications (sometimes paid) to install on your computer/phone which will not be limited by the browser and therefore probably more effective.
How does Zip password cracker work?
The tool creates the list of possible passwords based on the selected characters and the assumed length of the password and attempts to extract a file from the zip archive.
dCode uses the work of @gildas-lormeau here (link) (BSD-3 License)
Source code
dCode retains ownership of the "Zip Password" source code. Except explicit open source licence (indicated Creative Commons / free), the "Zip Password" algorithm, the applet or snippet (converter, solver, encryption / decryption, encoding / decoding, ciphering / deciphering, translator), or the "Zip Password" functions (calculate, convert, solve, decrypt / encrypt, decipher / cipher, decode / encode, translate) written in any informatic language (Python, Java, PHP, C#, Javascript, Matlab, etc.) and all data download, script, or API access for "Zip Password" are not public, same for offline use on PC, mobile, tablet, iPhone or Android app!
Reminder : dCode is free to use.
Cite dCode
The copy-paste of the page "Zip Password" or any of its results, is allowed as long as you cite dCode!
Cite as source (bibliography):
Zip Password on dCode.fr [online website], retrieved on 2023-01-30, https://www.dcode.fr/zip-password
Summary
Similar pages
Support
Forum/Help

Keywords
zip,archive,pass,password
Links
https://www.dcode.fr/zip-password
© 2023 dCode — The ultimate 'toolkit' to solve every games / riddles / geocaching / CTF.
▲