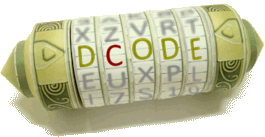 Search for a tool
Words Couples Solver
Tool/solver to reform words from 2 portions / groups / parts / couples of letters to reform a couple that creates an existing word in the dictionary.
Words Couples Solver - dCode
Tag(s) : Word Games
Share
dCode and more
dCode is free and its tools are a valuable help in games, maths, geocaching, puzzles and problems to solve every day!
A suggestion ? a feedback ? a bug ? an idea ? Write to dCode!
Words Couples Solver
Words-Couples Solver
Answers to Questions (FAQ)
How to solve Words-Couples games?
To find all the words in the word-pair games, there is no other method than to methodically test all the combinations of two groups/segments of letters in both directions: the first joined to the second or the second concatenated to the first. To decrease the attempts, look at the letters that will be glued / concatenated so that their bigram is plausible. Also, if the letters of a part do not form a syllable, try to form one.
Example: COU+PLE=COUPLE exists but PLE+COU=PLECOU does not exist
Depending on the quality of the ngrams (frequent bigrams or trigrams), it is possible that very many results exist.
For the difficult words couples, use the complete dictionary, for the easy words couples, use the dictionary restricted to common words.
How to find words with more than 2 pieces?
The number of combinations being exponential, the program is limited to couples.
By having all the letters, use the anagram generator, or the longest word solver.
Source code
dCode retains ownership of the online "Words Couples Solver" tool source code. Except explicit open source licence (indicated CC / Creative Commons / free), any "Words Couples Solver" algorithm, applet or snippet (converter, solver, encryption / decryption, encoding / decoding, ciphering / deciphering, translator), or any "Words Couples Solver" function (calculate, convert, solve, decrypt / encrypt, decipher / cipher, decode / encode, translate) written in any informatic language (Python, Java, PHP, C#, Javascript, Matlab, etc.) and no data download, script, copy-paste, or API access for "Words Couples Solver" will be for free, same for offline use on PC, tablet, iPhone or Android ! dCode is free and online.
Need Help ?
Please, check our dCode Discord community for help requests!
NB: for encrypted messages, test our automatic cipher identifier!
Questions / Comments
Summary
Similar pages
Support
Forum/Help

Keywords
couple,group,syllable,part,piece,word
Links
Source : https://www.dcode.fr/words-couples-solver
© 2021 dCode — The ultimate 'toolkit' to solve every games / riddles / geocaching / CTF.