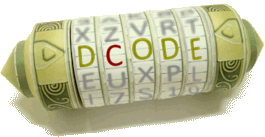 Search for a tool
UUID
Tool to generate UUIDs (Universal Unique Identifier) from RFC 4122 and standardized ISO/IEC 9834-8:2008 compatible with version 3, 4 and 5
UUID - dCode
Tag(s) : Hashing Function, Informatics
Share
dCode and more
dCode is free and its tools are a valuable help in games, maths, geocaching, puzzles and problems to solve every day!
A suggestion ? a feedback ? a bug ? an idea ? Write to dCode!
UUID
UUID Generator
Answers to Questions (FAQ)
How to generate a UUID?
Version 4 is made up of random bits based on the timestamp of the system that generates them. The timestamp is usually shown in microseconds (one thousandth of a second) since a specific date (called EPOCH). The result is therefore pseudo-random and presents a very probable uniqueness (not guaranteed). Each time a UUID v4 is generated, the code generated is different.
Example: UUID v4 0cc12fda-deca-4f24-918b-f0884d2bb911
Version 3 is generated from an MD5 hash of a 2-part string: on one side a UUID named namespace , and on the other a character string containing the name to be encoded .
Version 5 is the same as version 3 but generated from a SHA-1 hash.
Each time a v3 or v5 UUID is generated, the generated code is always the same.
How to decode a UUID?
How to recognize a UUID?
The UUID code contains 128 bits presented in the form of 32 hexadecimal characters divided into 8-4-4-4-12 digits (base 16) and separated by a dash -
Source code
dCode retains ownership of the online 'UUID' tool source code. Except explicit open source licence (indicated CC / Creative Commons / free), any 'UUID' algorithm, applet or snippet (converter, solver, encryption / decryption, encoding / decoding, ciphering / deciphering, translator), or any 'UUID' function (calculate, convert, solve, decrypt / encrypt, decipher / cipher, decode / encode, translate) written in any informatic language (Python, Java, PHP, C#, Javascript, Matlab, etc.) and no data download, script, copy-paste, or API access for 'UUID' will be for free, same for offline use on PC, tablet, iPhone or Android ! dCode is free and online.
Need Help ?
Please, check our dCode Discord community for help requests!
NB: for encrypted messages, test our automatic cipher identifier!
Questions / Comments
Summary
Similar pages
Support
Forum/Help

Keywords
uuid,identifier,unique,universal
Links
Source : https://www.dcode.fr/uuid-identifier
© 2021 dCode — The ultimate 'toolkit' to solve every games / riddles / geocaching / CTF.