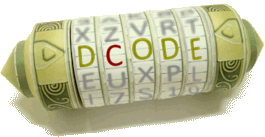 Search for a tool
PNG Chunks
Tool to extract and understand the PNG format chunks. The PNG (Portable Network Graphics) image format consists of multiple pieces of data (header, image, meta information, or hidden content).
PNG Chunks - dCode
Tag(s) : Image Processing
Share
dCode and more
dCode is free and its tools are a valuable help in games, maths, geocaching, puzzles and problems to solve every day!
A suggestion ? a feedback ? a bug ? an idea ? Write to dCode!
PNG Chunks
PNG Chunk Extraction
Answers to Questions (FAQ)
What is a PNG chunk? (Definition)
PNG (Portable Network Graphics) image files are composed of several parts, the chunks. Generally a file has a header, a content (iDAT) and an end. The PNG format also has its specification the ability to integrate a comment area chunk, compressed or not, which is usually unreadable without a dedicated software.
How to read a tEXt chunk?
The tEXt chunk is readable directly in the file (in a text editor or an hexadecimal editor), it starts with tEXt (74455874 in hexadecimal ascii), followed by a title, and a free comment area.
Example: TEXt => My Title This is a PNG comment
How to read a zTXt chunk?
The zTXt chunk is similar to tEXt except that its content is compressed with DEFLATE. Find in the file zTXt (7a545874 in hexadecimal ascii), followed by a title, and a binary area not readable directly (because compressed), that zone must be decompressed before being able to read the message.
Source code
dCode retains ownership of the online "PNG Chunks" source code. Except explicit open source licence (indicated CC / Creative Commons / free), the "PNG Chunks" algorithm, the applet or snippet (converter, solver, encryption / decryption, encoding / decoding, ciphering / deciphering, translator), or the "PNG Chunks" functions (calculate, convert, solve, decrypt / encrypt, decipher / cipher, decode / encode, translate) written in any informatic language (Python, Java, PHP, C#, Javascript, Matlab, etc.) and all data download, script, copy-paste, or API access for "PNG Chunks" are not public, same for offline use on PC, tablet, iPhone or Android ! Remainder : dCode is free to use.
Need Help ?
Please, check our dCode Discord community for help requests!
NB: for encrypted messages, test our automatic cipher identifier!
Questions / Comments
Summary
Similar pages
Support
Forum/Help

Keywords
ztxt,png,idat,text,comment,chunk,deflate,image,portable,network,graphic,metadata
Links
Source : https://www.dcode.fr/png-chunks
© 2021 dCode — The ultimate 'toolkit' to solve every games / riddles / geocaching / CTF.