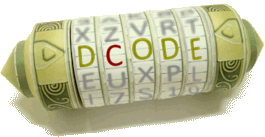 Search for a tool
EXIF Data
Tool to extract / read the EXIF data stored in the metadata of an image (or file). EXIF (Exchangeable image file format) allows the recording of metadata about the file.
EXIF Data - dCode
Tag(s) : Image Processing
Share
dCode and more
dCode is free and its tools are a valuable help in games, maths, geocaching, puzzles and problems to solve every day!
A suggestion ? a feedback ? a bug ? an idea ? Write to dCode!
EXIF Data
EXIF Data Extractor
Answers to Questions (FAQ)
How to read EXIF metadata?
Choosing and uploading an image file containing EXIF data and / or XML metadata and dCode will automatically read whatever is included in the file if there is any, otherwise no results will be returned.
The data in the image files is linked to various information on it such as the author, the photographer, the camera used, the location, etc.
The extraction of EXIF data is exhaustive, but some data may be unreadable.
Almost anything can be stored in these metadata fields, including fake or unrelated data. There is even an exif thumbnail field for storing an image in the image.
To save space and bandwidth, metadata is often extracted and deleted from Internet available images.
What is the APP1 marker?
The EXIF metadata format uses a marker inside image files, and APP1 is the one that is generally used to store EXIF data.
Source code
dCode retains ownership of the "EXIF Data" source code. Except explicit open source licence (indicated Creative Commons / free), the "EXIF Data" algorithm, the applet or snippet (converter, solver, encryption / decryption, encoding / decoding, ciphering / deciphering, translator), or the "EXIF Data" functions (calculate, convert, solve, decrypt / encrypt, decipher / cipher, decode / encode, translate) written in any informatic language (Python, Java, PHP, C#, Javascript, Matlab, etc.) and all data download, script, or API access for "EXIF Data" are not public, same for offline use on PC, tablet, iPhone or Android !
The copy-paste of the page "EXIF Data" or any of its results, is allowed as long as you cite the online source https://www.dcode.fr/exif-data
Reminder : dCode is free to use.
Summary
Similar pages
Support
Forum/Help

Keywords
exif,data,metadata,meta,extractor,extraction,extract,reader,jpg
Links
Source : https://www.dcode.fr/exif-data
© 2022 dCode — The ultimate 'toolkit' to solve every games / riddles / geocaching / CTF.
▲