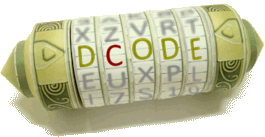 Search for a tool
Language Recognition
Tool to detect the language of a text document (Lang Recognition). There are hundreds of languages, this tool will detect the language of a text.
Language Recognition - dCode
Tag(s) : Data Processing
Share
dCode and more
dCode is free and its tools are a valuable help in games, maths, geocaching, puzzles and problems to solve every day!
A suggestion ? a feedback ? a bug ? an idea ? Write to dCode!
Language Recognition
Language Detector
Answers to Questions (FAQ)
How to recognize/identify the language of a text?
A language is a system of signs (characters) that enables communication between people. Language recognition (dialect or lang detection) is based on the characters detection (the alphabet) among the expressions and the words in the text.
The main principle is to detect/identify/recognize common words
Example: In English a, to, of, etc., in French, de, la, le, un, et
Count rare characters (or missing ones) to discriminate some foreign languages
Example: In English, the letter j is rare, in French, the letter w is rare and limited to words imported from other languages
Look for language specific characters/signs as diacritics
Example: In Spanish, the ñ (tilde n) appears often, in French, accent letters such as â,ç,è,é,ê,î,ô,û,ù are used, etc.
dCode is limited to a hundred languages worldwide.
How to count words in a text?
What are the most common languages?
The languages with the most speakers in the world are
English
Mandarin Chinese
Spanish
Arabic
Hindi/Hindustani
French
these are the languages with the most translations.
Source code
dCode retains ownership of the "Language Recognition" source code. Except explicit open source licence (indicated Creative Commons / free), the "Language Recognition" algorithm, the applet or snippet (converter, solver, encryption / decryption, encoding / decoding, ciphering / deciphering, translator), or the "Language Recognition" functions (calculate, convert, solve, decrypt / encrypt, decipher / cipher, decode / encode, translate) written in any informatic language (Python, Java, PHP, C#, Javascript, Matlab, etc.) and all data download, script, or API access for "Language Recognition" are not public, same for offline use on PC, mobile, tablet, iPhone or Android app!
Reminder : dCode is free to use.
Cite dCode
The copy-paste of the page "Language Recognition" or any of its results, is allowed as long as you cite dCode!
Cite as source (bibliography):
Language Recognition on dCode.fr [online website], retrieved on 2023-02-08, https://www.dcode.fr/language-recognition
Summary
Similar pages
Support
Forum/Help

Keywords
language,detection,recognition,sign,character,foreign,translation
Links
https://www.dcode.fr/language-recognition
© 2023 dCode — The ultimate 'toolkit' to solve every games / riddles / geocaching / CTF.
▲