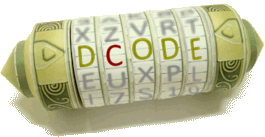 Search for a tool
IP Address
Tool to find an IP for a website. An IP address is the number that identifies a peripheric (computer/server) connected to the Internet. Originally described with four numbers between 0 and 255, separated by dots : 123.123.123.13. This v4 format is progressively replaced by v6
IP Address - dCode
Tag(s) : Internet
dCode and you
dCode is free and its tools are a valuable help in games, puzzles and problems to solve every day!
You have a problem, an idea for a project, a specific need and dCode can not (yet) help you? You need custom development? Contact-me!
IP Address
Sponsored ads

IP Address Resolution
Tool to find an IP for a website. An IP address is the number that identifies a peripheric (computer/server) connected to the Internet. Originally described with four numbers between 0 and 255, separated by dots : 123.123.123.13. This v4 format is progressively replaced by v6
Answers to Questions
How to know the website corresponding to an IP address?
Type the IP in the address bar of your web browser (eventually with http://).
Example: 216.58.208.238 [] redirects (normally) to google
How to know the local IP address of your box?
Depending on your service provider the local IP address may change but it is usually 192.168.1.1 or 192.168.0.1
Why is there multiple IP displayed?
IPs shown are the gateway though which the DNS resolution passes. The first IP is generally the one resolved.
Why it does not work?
Program may experience bugs in the following cases:
- proxy usage (hidden address)
- shared hosting (more than one website for a IP)
- ping protection (some site prevent external connection and calls)
Source code
dCode retains ownership of the source code of the script IP Address online. Except explicit open source licence (indicated Creative Commons / free), any algorithm, applet, snippet, software (converter, solver, encryption / decryption, encoding / decoding, ciphering / deciphering, translator), or any function (convert, solve, decrypt, encrypt, decipher, cipher, decode, code, translate) written in any informatic langauge (PHP, Java, C#, Python, Javascript, Matlab, etc.) which dCode owns rights will not be given for free. To download the online IP Address script for offline use on PC, iPhone or Android, ask for price quote on contact page !
Questions / Comments
Source : https://www.dcode.fr/ip-address
© 2018 dCode — The ultimate 'toolkit' to solve every games / riddles / geocaches. dCode