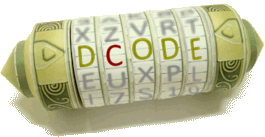 Search for a tool
4 Pics 1 Word Solver
Tool/solver to find all words solutions to game 4 Pics 1 Word with letters suggested by the application 4 Pics 1 Word on smartphone
4 Pics 1 Word Solver - dCode
Tag(s) : Word Games
Share
dCode and more
dCode is free and its tools are a valuable help in games, maths, geocaching, puzzles and problems to solve every day!
A suggestion ? a feedback ? a bug ? an idea ? Write to dCode!
4 Pics 1 Word Solver
Help for 4 pics 1 word
Answers to Questions (FAQ)
How to find 4 Pics 1 Word solutions?
dCode allows to find all the solutions of 4 Pics 1 Word without directly revealing the answers (no spoil).
Enter the boxes of the wanted word. (Use a special character such as -, ?, * or (space) to indicate an empty cell) and indicate the letters proposed by the game.
Example: To find a word of 6 letters, type: ------
Example: To find a word of 7 letters with A in the beginning, type 'A ------'
dCode will display all possible words in the dictionary. Filter those who can be the solution if there are several. The solver 4 images 1 word solution works for all lengths (3 letters, 4 letters, 5 letters, 6 letters, etc.)
The series of images in 4 Pics 1 Word evolve over time and updates, so the answers are not always the same, that's why only the solver of dCode has the answer!
How to find 4 Pics 1 Word (4,5,6,7) letters solutions?
To find a word of 5 letters, indicate 5 spaces or dashes ----- and the list of possible letters
How to write letters with diacritics?
Accents are not taken into account on dCode, sorry. Deleting them allows you to find solutions quickly.
Source code
dCode retains ownership of the "4 Pics 1 Word Solver" source code. Except explicit open source licence (indicated Creative Commons / free), the "4 Pics 1 Word Solver" algorithm, the applet or snippet (converter, solver, encryption / decryption, encoding / decoding, ciphering / deciphering, translator), or the "4 Pics 1 Word Solver" functions (calculate, convert, solve, decrypt / encrypt, decipher / cipher, decode / encode, translate) written in any informatic language (Python, Java, PHP, C#, Javascript, Matlab, etc.) and all data download, script, or API access for "4 Pics 1 Word Solver" are not public, same for offline use on PC, tablet, iPhone or Android !
The copy-paste of the page "4 Pics 1 Word Solver" or any of its results, is allowed as long as you cite the online source https://www.dcode.fr/4-pics-1-word-solver
Reminder : dCode is free to use.
Summary
Similar pages
Support
Forum/Help

Keywords
4,pic,1,word,picture,image,solution,puzzle
Links
Source : https://www.dcode.fr/4-pics-1-word-solver
© 2022 dCode — The ultimate 'toolkit' to solve every games / riddles / geocaching / CTF.
▲