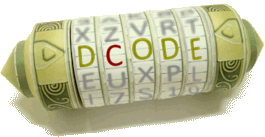 Search for a tool
Word Blitz Solver
Tool to cheat at Word Blitz and quickly find solutions. DCode solver generates list of words that can be written with the avaiable letters.
Word Blitz Solver - dCode
Tag(s) : Word Games
Share
dCode and more
dCode is free and its tools are a valuable help in games, maths, geocaching, puzzles and problems to solve every day!
A suggestion ? a feedback ? a bug ? an idea ? Write to dCode!
Word Blitz Solver
Word Blitz Solver (Boggle)
Word Blitz Solver (Crosswords)
Answers to Questions (FAQ)
How to solve Word Blitz levels?
The levels proposed in Garden of Words are crosswords limited to a few letters with which the player must reconstruct words and place them in the grid.
The player must complete the crossword of each level of Word Blitz, finding a small list of words preselected by the game. The list of dCode results is exhaustive and therefore contains more answers than those expected by the game which will therefore refuse certain words which are nevertheless valid in the dictionary.
Write the letters of the game in the scrambled input of the solver and click on the solve button to list the words of the dictionary including only these letters.
Example: LBZLI to form BLITZ, BIT, or LIT.
How to cheat at Word Blitz?
Using this WordBlitz solver avoids ingame purchases but it remains a help and a way to cheat.
To solve Word Blitz levels quickly, run dCode on a computer and the game in parallel on a smartphone or a tablet.
How to pause Word Blitz?
It is not possible to pause the game, as it is a game of speed. Tips: it is possible to use the dCode solver on a computer and the game on a phone to save time.
Source code
dCode retains ownership of the "Word Blitz Solver" source code. Except explicit open source licence (indicated Creative Commons / free), the "Word Blitz Solver" algorithm, the applet or snippet (converter, solver, encryption / decryption, encoding / decoding, ciphering / deciphering, translator), or the "Word Blitz Solver" functions (calculate, convert, solve, decrypt / encrypt, decipher / cipher, decode / encode, translate) written in any informatic language (Python, Java, PHP, C#, Javascript, Matlab, etc.) and all data download, script, or API access for "Word Blitz Solver" are not public, same for offline use on PC, mobile, tablet, iPhone or Android app!
Reminder : dCode is free to use.
Cite dCode
The copy-paste of the page "Word Blitz Solver" or any of its results, is allowed as long as you cite dCode!
Cite as source (bibliography):
Word Blitz Solver on dCode.fr [online website], retrieved on 2022-12-09, https://www.dcode.fr/wordblitz-solver
Summary
Similar pages
Support
Forum/Help

Keywords
word,blitz,letter,game,smartphone
Links
https://www.dcode.fr/wordblitz-solver
© 2022 dCode — The ultimate 'toolkit' to solve every games / riddles / geocaching / CTF.
▲