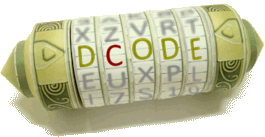 Search for a tool
Words Containing …
Tool to search words that contain a given letter or sequence of letters, pattern search or suit of letters, containing special letters but not some others, etc.
Words Containing … - dCode
Tag(s) : Word Search
Share
dCode and more
dCode is free and its tools are a valuable help in games, maths, geocaching, puzzles and problems to solve every day!
A suggestion ? a feedback ? a bug ? an idea ? Write to dCode!
Words Containing …
List words that contain some letters
More criteria
Dedicated tools
Answers to Questions (FAQ)
What is a search for words containing...? (Definition)
Many word games require finding one or more words containing certain letters according to different criteria (in this order, in any order, using only these letters, adding others, reusing them several times, etc.). dCode offers all these search modes in a single tool to list all the words with the desired letter or series of letters.
How to find words containing some letters?
dCode allows to search and find words with some letters in them, by patterns of letters in a word (including jokers - or ?), or by specific letters in any position (at the beginning, in the middle or at the end).
Example: Search for words containing each of the letters ABC in any order gives: CAB, JACOB etc.
Example: Search for words containing the pattern A-A-A-A gives: ALABAMA, etc.
Example: Search for words including the exact pattern ABC gives: LABCOAT, etc. (Letters are necessarily consecutive)
Example: Search for words having the letters ABC in this order: FABRIC, PAYBACK etc.
To find word with a maximum of letters, use the longest word solver.
To find a word with letters shuffled in any order, use the anagram solver.
To find words with letters in certain positions, use the crossword solver.
It is also possible to exclude some letters (words containing some letters but not some others).
How to cheat at letters games?
All letter games (crosswords, scrabble, boggle, wordle, etc.) already have dedicated pages on dCode but some variants can be solved with this tool.
Example: Find a word with the following letters: ORWD. The generator will find WORD (that is an anagram)
Source code
dCode retains ownership of the "Words Containing …" source code. Except explicit open source licence (indicated Creative Commons / free), the "Words Containing …" algorithm, the applet or snippet (converter, solver, encryption / decryption, encoding / decoding, ciphering / deciphering, breaker, translator), or the "Words Containing …" functions (calculate, convert, solve, decrypt / encrypt, decipher / cipher, decode / encode, translate) written in any informatic language (Python, Java, PHP, C#, Javascript, Matlab, etc.) and all data download, script, or API access for "Words Containing …" are not public, same for offline use on PC, mobile, tablet, iPhone or Android app!
Reminder : dCode is free to use.
Cite dCode
The copy-paste of the page "Words Containing …" or any of its results, is allowed (even for commercial purposes) as long as you cite dCode!
Exporting results as a .csv or .txt file is free by clicking on the export icon
Cite as source (bibliography):
Words Containing … on dCode.fr [online website], retrieved on 2023-12-06, https://www.dcode.fr/words-containing
Summary
Similar pages
Support
Forum/Help

Keywords
word,containing,contain,find,with,middle,include,letter,some,pattern,having,search
Links
https://www.dcode.fr/words-containing
© 2023 dCode — The ultimate 'toolkit' to solve every games / riddles / geocaching / CTF.
▲