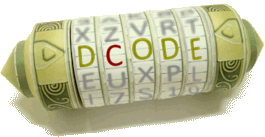 Search for a tool
Word Desubstitution
Tool to find a word encrypted with a simple substitution. A word substituted by mono alphabetic cipher can be unsubstituted with a dictionary search (desubstitution).
Word Desubstitution - dCode
Tag(s) : Substitution Cipher
Share
dCode and more
dCode is free and its tools are a valuable help in games, maths, geocaching, puzzles and problems to solve every day!
A suggestion ? a feedback ? a bug ? an idea ? Write to dCode!
Word Desubstitution
De-substitution of a word
Answers to Questions (FAQ)
How to desubstitute a word ciphered by mono-alphabetical substitution?
Unsubstitution consists of looking at the distribution of letters in the encrypted word, specifically the repeated and distinct letters in order to make a fingerprint.
Example: XYX is decomposed: one letter, then a second letter distinct from the first one, then the first letter again
With a fingerprint (idiomorph), it is possible to search in a dictionary for words with the same fingerprint and thus corresponding to a mono-alphabetic substitution.
Example: BOB, EVE or SMS can fit, but not CAB.
dCode can not find any result if the substitution is not monoalphabetic (ie it uses a unique alphabet, such a deranged alphabet) or if the word is not present in the dictionary.
What are the most favorable cases?
The fingerprint of the word must be specific, for example, include repetitions of letters. Indeed, if there are no repeated letters, then many words can match.
Why limiting to 2 words?
The number of combinations of words is exponential and beyond the computation times exceed the minute. There are faster heuristics but they do not guarantee a result, dCode prefers to guarantee a result rather than not displaying it. To decipher a sentence, the monoalphabetic substitution tool is much faster.
Source code
dCode retains ownership of the "Word Desubstitution" source code. Except explicit open source licence (indicated Creative Commons / free), the "Word Desubstitution" algorithm, the applet or snippet (converter, solver, encryption / decryption, encoding / decoding, ciphering / deciphering, translator), or the "Word Desubstitution" functions (calculate, convert, solve, decrypt / encrypt, decipher / cipher, decode / encode, translate) written in any informatic language (Python, Java, PHP, C#, Javascript, Matlab, etc.) and all data download, script, or API access for "Word Desubstitution" are not public, same for offline use on PC, mobile, tablet, iPhone or Android app!
Reminder : dCode is free to use.
Cite dCode
The copy-paste of the page "Word Desubstitution" or any of its results, is allowed as long as you cite dCode!
Cite as source (bibliography):
Word Desubstitution on dCode.fr [online website], retrieved on 2022-10-05, https://www.dcode.fr/word-desubstitution
Summary
Similar pages
Support
Forum/Help

Keywords
desubstitution,idiomorph,substitution,word,monoalphabetic,unsubstitution
Links
https://www.dcode.fr/word-desubstitution
© 2022 dCode — The ultimate 'toolkit' to solve every games / riddles / geocaching / CTF.
▲