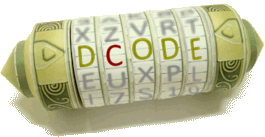 Search for a tool
Word Charm Solver
Tool/Solver to list all solutions to Word Charm game (help and free solutions, not real cheating) by finding all the possible words from the game letters.
Word Charm Solver - dCode
Tag(s) : Word Games
Share
dCode and more
dCode is free and its tools are a valuable help in games, maths, geocaching, puzzles and problems to solve every day!
A suggestion ? a feedback ? a bug ? an idea ? Write to dCode!
Word Charm Solver
Word Charm Solver
Answers to Questions (FAQ)
How to solve Word Charm levels?
Word Charm levels are represented by a list of mixed letters, from which the player must recompose words of increasing length. Even if the principle is not necessarily to find the longest word, finding more letters earns more points. The game is available on smartphone.
At each level, a list of words is requested by the game, this list is not exhaustive.
Some words are completely valid (present in the dictionary) but are not accepted by the Word Charm game.
Indicate the letters in the box and click on the button to solve for the solutions.
Example: CMRHA to make CHARM, MARCH, MACH or CAR.
What are the solutions to Word Charm levels?
The levels evolve according to the game updates, so it is better to use the dCode solver above to solve everything easily.
The Word Charm solver allows cheating and thus saves the purchase of useless clues but also reduce the quality of your Word Charm gaming experience.
Source code
dCode retains ownership of the "Word Charm Solver" source code. Except explicit open source licence (indicated Creative Commons / free), the "Word Charm Solver" algorithm, the applet or snippet (converter, solver, encryption / decryption, encoding / decoding, ciphering / deciphering, breaker, translator), or the "Word Charm Solver" functions (calculate, convert, solve, decrypt / encrypt, decipher / cipher, decode / encode, translate) written in any informatic language (Python, Java, PHP, C#, Javascript, Matlab, etc.) and all data download, script, or API access for "Word Charm Solver" are not public, same for offline use on PC, mobile, tablet, iPhone or Android app!
Reminder : dCode is free to use.
Cite dCode
The copy-paste of the page "Word Charm Solver" or any of its results, is allowed (even for commercial purposes) as long as you cite dCode!
Exporting results as a .csv or .txt file is free by clicking on the export icon
Cite as source (bibliography):
Word Charm Solver on dCode.fr [online website], retrieved on 2023-09-27, https://www.dcode.fr/word-charm-solver
Summary
Similar pages
Support
Forum/Help

Keywords
word,charm,letter,game,smartphone
Links
https://www.dcode.fr/word-charm-solver
© 2023 dCode — The ultimate 'toolkit' to solve every games / riddles / geocaching / CTF.
▲