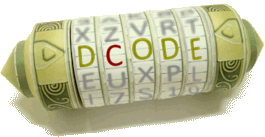 Search for a tool
Random Word
Tool to generate random words, whether they exist in the dictionary or not. The generation is configurable with multiple options.
Random Word - dCode
Tag(s) : Fun/Miscellaneous, Word Games
Share
dCode and more
dCode is free and its tools are a valuable help in games, maths, geocaching, puzzles and problems to solve every day!
A suggestion ? a feedback ? a bug ? an idea ? Write to dCode!
Random Word
Random Word Generation
Random Word Picker from List
Answers to Questions (FAQ)
What is a random word? (Definition)
There are several possible definitions for the concept of random word. Does the random word need to exist in the dictionary? If not, should the word be pronounceable?
Word from dictionary mode: pick a common word, among the dictionary of the most frequent words.
Example: LANGUAGE, KEYBOARD, etc.
Any dictionary word mode: a word from the dictionary, including rare words or proper names. To generate complicated words, choose between 12 and 20 letters.
Word that does not exist mode: a word that looks like a word from the dictionary but that does not exist. For funny words, choose between 6 and 10 letters. All words generated are pronounceable words.
Example: PENTILLE, BUNDLE, etc.
Random letters mode: a list of letter that forms a word but is usually unpronounceable and that does not mean anything (except a lucky draw).
Example: DYCVOBDREZ, MPCWAA, etc.
How to use the random word generator for Pictionary?
Generate some of the most common words and pick one of the easiest to draw.
Source code
dCode retains ownership of the "Random Word" source code. Except explicit open source licence (indicated Creative Commons / free), the "Random Word" algorithm, the applet or snippet (converter, solver, encryption / decryption, encoding / decoding, ciphering / deciphering, translator), or the "Random Word" functions (calculate, convert, solve, decrypt / encrypt, decipher / cipher, decode / encode, translate) written in any informatic language (Python, Java, PHP, C#, Javascript, Matlab, etc.) and all data download, script, or API access for "Random Word" are not public, same for offline use on PC, tablet, iPhone or Android !
The copy-paste of the page "Random Word" or any of its results, is allowed as long as you cite the online source https://www.dcode.fr/random-word
Reminder : dCode is free to use.
Summary
Similar pages
Support
Forum/Help

Keywords
random,word,dictionary,pronounceable,complicated,generator
Links
Source : https://www.dcode.fr/random-word
© 2022 dCode — The ultimate 'toolkit' to solve every games / riddles / geocaching / CTF.
▲