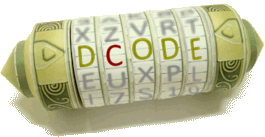 Search for a tool
Fake Id Generator
Tool to generate fake name and fake profile. The false identity generator allows you to create male or female characters with a name, a name, a birth date, a city and a random job.
Fake Id Generator - dCode
Tag(s) : Fun/Miscellaneous, Internet
Share
dCode and more
dCode is free and its tools are a valuable help in games, maths, geocaching, puzzles and problems to solve every day!
A suggestion ? a feedback ? a bug ? an idea ? Write to dCode!
Fake Id Generator
Fake Identity Generation
Answers to Questions (FAQ)
What is a fake identity? (Definition)
A fake identity is the set of elements of a profile characterizing a person but being totally false.
Example: Reyes Joshua; born 1986-02-21; lives in New Orleans (United States) as a Maintenance & Repair Worker
A fake last name, a fake surname, a false birth date, a false city, a false job, etc. Everything is credible for anyone who does not know the real identity of the character.
How to generate a new identity?
The generation of a new identity (or fake id or pseudonym) involves a random selection of a new name, new job, etc. to create a new profile. For social networks, complete these elements with a picture/photo, papers like an id card and some additional information if needed.
What are the risks of using a fake identity?
A fake profile should not be used officially, as with fake documents for the administration, because legally it is not possible to have multiple identities (aliases and scene names are allowed on some papers but not by the administration). Obviously, it is also illegal to take the identity of another person (identity theft).
How are fake identity pictures generated?
dCode uses the profile generation system StyleGAN2 identity maker (2019-12) by Karras et al. & Nvidia.
Source code
dCode retains ownership of the "Fake Id Generator" source code. Except explicit open source licence (indicated Creative Commons / free), the "Fake Id Generator" algorithm, the applet or snippet (converter, solver, encryption / decryption, encoding / decoding, ciphering / deciphering, breaker, translator), or the "Fake Id Generator" functions (calculate, convert, solve, decrypt / encrypt, decipher / cipher, decode / encode, translate) written in any informatic language (Python, Java, PHP, C#, Javascript, Matlab, etc.) and all data download, script, or API access for "Fake Id Generator" are not public, same for offline use on PC, mobile, tablet, iPhone or Android app!
Reminder : dCode is free to use.
Cite dCode
The copy-paste of the page "Fake Id Generator" or any of its results, is allowed (even for commercial purposes) as long as you cite dCode!
Exporting results as a .csv or .txt file is free by clicking on the export icon
Cite as source (bibliography):
Fake Id Generator on dCode.fr [online website], retrieved on 2023-05-31, https://www.dcode.fr/fake-id-generator
Summary
Similar pages
Support
Forum/Help

Keywords
fake,identity,name,surname,lastname,profile,pseudo,pseudonym,alias
Links
https://www.dcode.fr/fake-id-generator
© 2023 dCode — The ultimate 'toolkit' to solve every games / riddles / geocaching / CTF.
▲